Publication of RCI's scientific background report on "Making a case for Carbon Capture and Utilisation – It Is Much More Than Just a Carbon Removal Technology"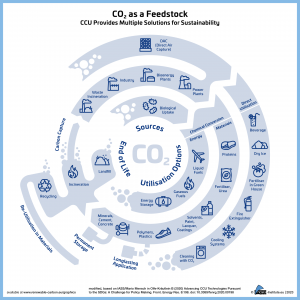 This new scientific background report was published on 13 July 2023 and is a deep dive into the many benefits and solutions where the technology of CCU can play a significant role in the future.
This scientific background paper highlights the importance of Carbon Capture and Utilisation (CCU) and the need for more political recognition and support for CCU. CCU enables the substitution of fossil carbon in sectors where carbon is necessary, supports the full defossilisation of the chemical and derived material industries, creates a circular economy, reduces the emission gap, promotes sustainable carbon cycles, fosters innovation, generates local value and stimulates job growth. CCU is much more than a carbon removal technology: the technology offers multiple solutions to pressing problems of our modern world and can support several Sustainable Development Goals if implemented properly.
In total, 14 different benefits and advantages of CCU are described and discussed in the paper. A key advantage is that CCU supplies renewable carbon to – and thereby substitutes fossil carbon in – sectors that will require carbon in the long run. This includes the chemical sectors and products like polymers, plastics, solvents, paints, detergents, cosmetics or pharmaceuticals. But CCU is also essential to a long-term net-zero strategy, crucial for creating a sustainable circular economy, providing solutions for scaling up the renewable energy system, and bringing multiple benefits for innovation and business.
The relevance of the technology is not yet accepted in Europe, but the RCI wants to make a very clear statement: CCU is a central pillar for the biggest transformation of the chemical and material industry since the industrial revolution.
The entire report is available at: https://renewable-carbon.eu/publications/product/making-a-case-for-carbon-capture-and-utilisation-ccu-it-is-much-more-than-just-a-carbon-removal-technology
Publication of RCI Key Policy Messages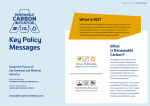 In beginning of July, RC published a short document which contains seven key policy messages the RCI advocates for to shape the future of the chemical and material industry.
These seven messages are:
Renewable carbon and comprehensive carbon management need to become integral guiding principles of policies to achieve truly sustainable carbon cycles.
Adopt a precise definition of "non-fossil, sustainable" carbon and then adopt a legally binding target for 20% sustainable, non-virgin-fossil carbon content
Suitable measures to support the 20% goal would be
a. material- and product focused policies that promote all three renewable carbon sources,
b. CCU receiving at least the same support as CCS and
c. recognition and promotion of chemical recycling technologies
Support the transformation of existing chemical infrastructure from fossil to renewable carbon and support the transformation of biofuels plants into chemical suppliers
Support the massive expansion of renewable energies
Develop standards, certificates and labels for renewable carbon
Phase out financial support, tax advantages and tax exemptions for fossil feedstocks
The document is designed to function as a simple and straightforward overview of the main policy requirements to defossilise the chemical and material sectors.
Find the document at https://renewable-carbon.eu/publications/product/rci-key-policy-messages/
Article in Chemical Industry Digest Special Sustainability Issue – Renewable Carbon Initiative (RCI) Shapes the Future of the Chemicals and Materials Sector
The RCI was featured in the June 2023 issue of Chemical Industry Digest, a technical journal oriented towards engineers and decision makers in all chemical & process industries. Since 1987, Chemical Industry Digest has been a pioneer, in introducing first-hand industrial journalism, designed to inform and update practicing management and engineering professionals in all segments of the chemical process industries.
The article shows the history and achievements of the RCI as of yet. From international brands to leading chemical and bioeconomy companies to innovative start-ups for CO2 utilisation, companies are collaborating to guide a smart transition from fossil carbon to renewable carbon. The Renewable Carbon Initiative (RCI) was created after observing the struggles of the chemical and material industries in facing the enormous challenges to meet the climate goals set by the European Union and the sustainability expectations held by societies around the globe. It was clear that the industry has to go beyond using renewable energy and also consider their raw materials. Because decarbonisation is not an option for the chemical and material sector, as it is entirely based on the use of carbon, an alternative strategy is required: defossilisation through renewable carbon – carbon from above the ground: biomass, CO2 and recycling.
Find the full June 2023 issue of the Chemical Industry Digest at https://chemindigest.com/chemical-industry-digest-june-2023-issue/ or the article about RCI at https://renewable-carbon.eu/publications/product/rci-shapes-the-future-of-the-chemicals-and-materials-sector/
RCI Interview with member Beiersdorf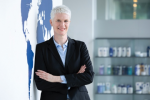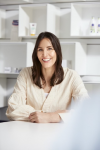 The RCI executive office interviewed Manuela Köhler (Chief Scientist Feedstock & Formula Science) and Eva Bredehorst (Global Packaging Sustainability) of Beiersdorf, a globally recognized manufacturer of skin care and personal care products.
Beiersdorf's Sustainability Agenda CARE BEYOND SKIN sets ambitious commitments and targets. For example, as part of the company's "Plastic Pledge" they aim to reduce fossil-based virgin plastic by 50 % and foster to use 30 % recycled plastic globally by 2025. Additionally, the company aims to make 100 % of its packaging refillable, reusable or recyclable by 2025. Beiersdorf has already relaunched several assortments that are now made from recycled plastic or bio-based materials and contain bio-based or even CO2-based ingredients.
"We will always choose from bio-based, chemically recycled or CO2-based feedstocks and what is best for our consumer. This is also reflected in our recent launches: We launched in 2021 our Nivea Naturally Good Face Care – our first products where the jars are made from certified, renewable plastic and in 2022 we launched the NIVEA MEN Climate Care Moisturizer with 14 % CCU Ethanol."
Beiersdorf supports the switch from fossil feedstock to renewable carbon.
Find the full interview here: https://renewable-carbon-initiative.com/members/beiersdorf/
Collaboration between BIC and RCI on a study to model sustainable biomass supply from agriculture and forestry
The RCI General Assembly decided to conduct a study on sustainable available biomass potential – in the world and in the EU – to assess usability for chemicals and materials while respecting planetary boundaries. For this activity, RCI has teamed up with the Bio-based Industries Consortium to jointly conduct a study on this topic which includes modelling on agricultural and forestry areas and apply different scenarios to analyse and interpret the results. The study has now been kicked off.
Next steps in the development of the Renewable Carbon Share (RCS) Certificate and Label: Official Cooperation Agreement with TÜV Austria + Beta-Testing phase kicked off with RCI members
On our mission to develop and implement a "Renewable Carbon Share" (RCS) Certificate and Label, RCI has taken next major steps. The RCI has now officially signed a cooperation agreement with TÜV Austria to take over the lead for further development of the certification scheme, beta-testing the scheme and then bringing it to the market. End of July a meeting was hosted between RCI and TÜV Austria to discuss first steps towards identifying and realising case studies to further develop and finetune the certification scheme.
New partnership: The RCI has partnered up with the European Industrial Hemp Association (EIHA)

We are happy to welcome The European Industrial Hemp Association (EIHA) as our newest partner to support the coming goal: A sustainable chemical and material industry!
The European Industrial Hemp Association (EIHA) represents the interest of the whole European hemp sector. Based in Brussels, EIHA is actively engaged in creating a positive regulatory framework, sharing knowledge around hemp, and facilitating the development of the value chain throughout Europe.

Why did they join RCI?
EIHA joined the RCI to raise awareness on the potential of hemp as raw material for the manufacturing industry and its value in terms of environmental, social, and economic sustainability. It also aims at building new partnership with companies, stakeholders' groups, and NGOs with the aim of further expanding the hemp value chains in Europe.
Next RCI webinar in September
The next RCI webinar will be held on 21 June 2023 from 14:00 to 15:30 CEST, explaining the renewable carbon concept, the Renewable Carbon Initiative, and focusing on recent activities and positions of the RCI.
Find out more at: https://renewable-carbon-initiative.com/events
Source
Renewable Carbon Initiative, 2023-07-31.
Supplier
Renewable Carbon Initiative (RCI)

Share
Renewable Carbon News – Daily Newsletter
Subscribe to our daily email newsletter – the world's leading newsletter on renewable materials and chemicals