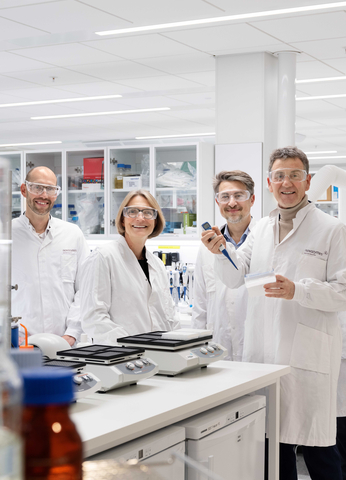 Exclusive agreement with Novozymes, world leader in enzyme production, ensures enzyme supply for Carbios' unique recycling technology at industrial scale for future Longlaville operations and all future licensee plants
The agreement outlines collaboration to develop, optimize and produce Carbios' proprietary enzymes
Carbios and Novozymes, the world leader in biological solutions, announce today an exclusive long-term global strategic partnership. This major agreement ensures the long-term production and supply of Carbios' proprietary PET-degrading enzymes at an industrial scale for the world's first biological PET-recycling plant due to start production in 2025 in Longlaville (France), as well as Carbios' future licensee customers.
Exclusive Global Partnership
Carbios and Novozymes have had a partnership since 2019 to develop enzyme-based solutions and address the sustainability challenge of plastic pollution, both within PET-recycling[1] and PLA-biodegradation[2]. Building on the current Joint Development Agreement (JDA), under the new agreement, Carbios and Novozymes will extend their collaboration to develop, optimize and produce enzymes that will subsequently be supplied by Novozymes to all licensees of Carbios' technology. The new agreement grants both parties exclusivity in the field of the partnership.
Large-scale Industrial Deployment
The strategic partnership supports the large-scale industrial deployment of Carbios' patented PET-recycling technology starting with Carbios' future industrial reference unit in Longlaville (France), which will be the world's first biological PET-recycling plant. Construction will begin later this year, and both building and operating permits having been filed with local authorities. Production at the plant is set to start in 2025 and the processing capacity will be 50,000 tonnes of waste per year.
"We are delighted to expand our partnership with Novozymes, the world leader in biological solutions, and to build on our strong existing relationship to provide a sustainable supply solution for our future customers," commented Emmanuel Ladent, Chief Executive Officer of Carbios. "Novozymes' continued support is testament to our joint commitment to achieve a truly circular economy for plastics and textiles that will benefit the environment and be economically viable for all business partners."

"We are excited to advance our collaboration with Carbios by signing this exclusive agreement and to support the next phase of scaling this new business of biological plastic recycling," said Hans Ole Klingenberg, Vice President, Marketing Agricultural & Industrial Biosolutions of Novozymes. "By providing biological solutions at a large scale, Novozymes is pleased to contribute in bringing Carbios' biorecycling of PET-plastics and fibers to market."
[1] Cf Press release dated 30 January 2020
[2] Cf Press release dated 29 January 2019
Source
Carbios, press release, 2023-01-12.
Supplier
Share
Renewable Carbon News – Daily Newsletter
Subscribe to our daily email newsletter – the world's leading newsletter on renewable materials and chemicals