The Bio-based Industries (BBI) Joint Undertaking (JU) PPP has just launched a €100 million Call for Proposals. This second call from the BBI JU is dedicated to Innovation Actions (aka 'Flagship projects') and focuses on lignocellulosic feedstock (BBI Value Chain 1), valorisation of cellulose (BBI Value Chain 2) and innovative processes for sugar recovery and conversion from Municipal Solid Waste (BBI Value Chain 4). See the BBI JU value chains below.
The Bio-based Industries Joint Undertaking will be holding an Info Day session in Brussels on the morning of 26 June on this call followed by a networking and brokerage session in the afternoon.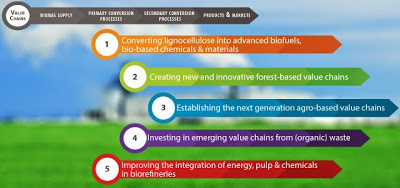 All three sub-calls will be subject to a single stage selection process and proposals must be submitted by the closing deadline of 15 September 2015. The call documentation estimates that proposals with total eligible budgets up to €35 million should allow the specified challenges to be addressed appropriately.
In addition any proposals should look to include industrial symbiosis and integration of actors along the whole value chain in their proposed projects and, wherever possible, make use of existing facilities.
The topics chosen in this call reflect elements of the section on 'A Sustainable and Inclusive Bioeconomy' in SusChem's recently published Strategic Innovation and Research Agenda (SIRA). The three sub-calls are summarised below with links to their specific Horizon 2020 call page (click on the header).
From lignocellulosic feedstock to advanced biobased chemicals (BBI.VC1.F1)
Lignocellulosic biomass is one of the most abundant resources of fixed renewable carbon on earth present in woody crops, agricultural and forest and other process residues. While bio-based chemicals, materials and ethanol produced from food crops are already on the market production from lignocellulosic feedstock would open up large opportunities in terms of enhanced sustainability, avoiding land conflicts and expanding resource potential.
Research and innovation activities in this area are on-going, but the challenge lies in establishing at industrial scale a first-of-a-kind, cost-effective biorefinery concept leading to the conversion of lignocellulosic feedstock into biobased chemicals, materials and ethanol. Therefore the principal objective of this call is the demonstration of the techno-economic viability of transformation of one or multiple lignocellulosic feedstock into a bio-based product such as bioethanol (targeting a production capacity of at least 50 000 ton/year); and/or diols and/or diacids (targeting a production capacity of at least 5 000 ton/year). Proposals should address their further conversion into sustainable biomaterials within an integrated biorefinery concept applying a cascading approach.
Valorisation of cellulose into new added value products (BBI.VC2.F2)
Cellulose is a well-known and widely exploited material, but recent technological developments are opening up opportunities for its use in new and higher added value applications. This enhances competitiveness and also significantly improves environmental performance. As for lignocellulosic feedstock, while demonstration activities are being pursued, the challenge in this call lies in demonstrating at industrial scale first-of-a-kind cost-effective biorefinery concepts leading to the production of economically competitive cellulose-based products for bulk materials and volume applications.
Proposals should aim to demonstrate the techno-economic viability of biorefinery concepts leading to new cellulose-based products with tailored functionalities for either microfibrillar cellulose (MFC) based additives (at a scale of at least 1000 ton/year) or lightweight structural composites based on (bio-based and/or conventional) polymers reinforced with cellulose pulp fibres (demonstrated at 25 000 ton/year of composite materials).
Innovative processes for Municipal Solid Waste (BBI.VC4.F3)
The biodegradable fraction of Municipal Solid Waste (MSW) is an abundant feedstock rich in sugars and suitable for conversion into biobased chemicals and fuels through biotechnological processes. However, its quality is highly variable and contains other components, such as proteins, fats, ashes and other inhibitor compounds which affect the overall yield of fermentation and enzymatic conversion processes. This call again looks to demonstrating at industrial scale a first-of-a-kind, cost effective new value chain for the recovery and conversion of MSW-based sugars into biobased products for the whole value chain: from sourcing and management of MSW to its conversion.
About the BBI JU
The Bio-Based Industries Joint Undertaking is a €3.7 billion Public-Private Partnership (PPP) between the EU and the Bio-based Industries Consortium (BIC). It is dedicated to realising the European bioeconomy potential, turning biological residues and wastes into greener everyday products through innovative technologies and biorefineries, which are at the heart of the bioeconomy. The BBI is about connecting key sectors, creating new value chains and producing a range of innovative bio-based products to ultimately form a new bio-based community and economy.
Source
SusChem blog, press release, 2015-05-22.
Supplier
Bio-based Industries (BBI) Joint Undertaking
Bio-based Industries Consortium (BIC)
European Technology Platform For Sustainable Chemistry (SusChem)
European Union
Horizon 2020

Share