Zelcor, a 6.7M€ million EU project focused on replacing traditional, fossil-based solvents, was officially launched on 1st October 2016. Led by INRA France, the project consortium is comprised of 18 partners from 8 different countries including 6 academia, 8 SMEs, and 3 corporations.
On 12-13 October 2016, the official kick-off was held for the Zelcor project in Paris, France. The ZELCOR project aims at demonstrating the feasibility of transforming lignocellulose biorefinery recalcitrant side streams into high added-value biobased products, including fine chemicals.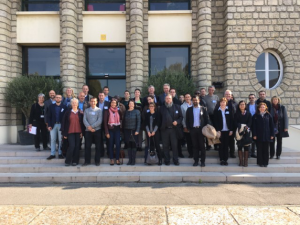 Its concept is to combine chemical and enzymatic catalysis with insects-based biological conversion, within a biorefinery integrated approach. The project is conceived to avoid waste production by recycling waste bio-based products and to improve the sustainability of existing second generation biorefineries. It addresses three types of recalcitrant raw materials: lignocellulosic residues from ethanol production, lignins dissolved during pulping process and lignin-like humins formed by sugars conversion. Enzymatic and process engineering will be implemented to design efficient conversion routes and permit technological breakthroughs.
This project has received funding from the Bio-Based Industries Joint Undertaking under the European Union's Horizon 2020 research and innovation programme under grant agreement No. 720303.
Source
nova-Institut GmbH, press release, 2016-10-14.
Share
Renewable Carbon News – Daily Newsletter
Subscribe to our daily email newsletter – the world's leading newsletter on renewable materials and chemicals