Dear Reader,
Welcome to the third RoadToBio newsletter. 2018 is now in full swing and we continue our journey towards a roadmap for a higher bio-based portfolio in 2030.
In this newsletter, we want to introduce you to another important aspect for the development of this roadmap: Opportunities, barriers and hurdles concerning the acceptance of bio-based products among consumers and other public stakeholders.
We hope you enjoy the read and remain with best regards,
Christopher vom Berg & Lara Dammer
nova-Institut für politische und ökologische Innovation GmbH
On behalf of the RoadToBio consortium ­
­ ­ ­
­ ­ ­
Please consider – if not done already – to subscribe to the RoadToBio newsletter.
­
Report D2.2 summary: Public Perception of bio-based products
In our second RoadToBio report we present results and findings of a study focusing on:
A compilation, comparison and analysis of existing research and reports about public perception of bio-based products in order to identify barriers for further market development
Focus on consumer perception, the awareness and attitudes of consumers towards bio-based products and their respective willingness to purchase these products
The visibility of bio-based products in the market and their perception by the public is key to a successful market development of these materials.
The analysis revealed four common themes that were each addressed by several publications: (1) awareness and knowledge, (2) associations and connotations, (3) consumption decision and willingness to pay, (4) information and labels.
1. Awareness and knowledge
The results show that the awareness of the existence of bio-based products seems to lie around 50% (Figure 1). While there is a general understanding of what bio-based products are, specific knowledge about product characteristics is mostly missing and misconceptions occur. The relatively low level of awareness can be a barrier for further market development of bio-based products. ­
­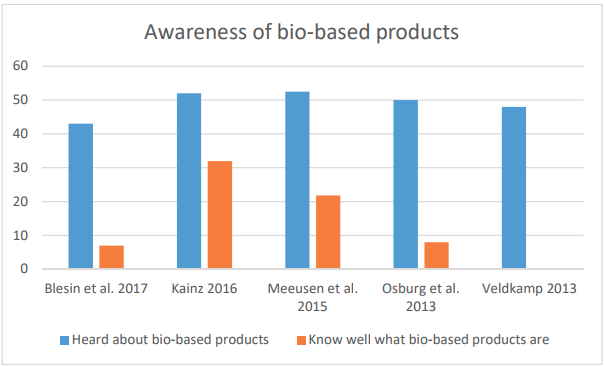 2. Associations and connotations
Consumers link various associations and connotations with bio-based products. Associations are related to environmental aspects, personal benefits and product properties. Various studies show that people assume that bio-based production is aimed at finding environmentally friendlier solutions. This results in a positive attitude towards bio-based products, but also brings with it the challenge of high expectations towards them.
There appear to be both positive and negative connotations about bio-based products, many related to the impact on the environment and referring to a global scale. The factual environmental impact of a bio-based product could thus prove to be a very important aspect in the final attitude of consumers.
3. Buying decision and willingness to pay
The results show that around two thirds of respondents state to prefer bio-based products over conventional products, but only 12% have ever consciously chosen bio-based products over conventional ones. This indicates that most consumers count "bio-based" as an additional benefit, but personal benefits are more important. Still, it can be noted that the consumer pool actively choosing bio-based products is currently small, but has potential to grow.
4. Information and labels
Results indicate that information on the benefits of bio-based products is not readily available, with the distinct lack of information about these benefits creating a barrier towards consuming more bio-based products. The analysis suggest that labels might be more effective to present detailed information than textual information. Regarding this, a multitude of ecolabels exists in Europe, but few of them are specific enough for most bio-based products, with no purposely designed ecolabel for bio-based products.
Based on the results of the analysis, the report provides some tentative recommendations for communicating about bio-based products, highlighting different options as well as their pro's and con's.
Are you interested in reading the full report? You can download it here. ­
­ ­ ­
­
Join the network ­
­We would like to invite you to join us on the journey to a more bio-based chemical industry. The roadmap should contain clear, realistic goals. With your knowledge, it is possible to create a strong roadmap with a high impact. Therefore, we will conduct workshops and webinars to involve you as stakeholder.
Your opinion is of utmost importance to us. Through your participation, you get the opportunity to help shape the development process and to find your opinion later in the roadmap.
How?
Upcoming event
We want to invite you to participate in our first webinar on 7th February at 2 pm CET.
This webinar presents first key findings of the BBI project "RoadToBio", mapping out a plethora of potential entry points for bio-based products in different chemical value chains. Depending on value chains and entry points, the differentiation between "drop-ins", "smart drop-ins" and "dedicated chemicals" can be helpful to discuss the most promising opportunities.
RoadToBio's focus on globally competitive bio-based chemicals will help shape the future of Europe's chemicals industry and help to secure jobs in Europe's rural and less developed regions.
Participation in this webinar is free of charge. Please register here.
What you can expect from the next newsletter ­
Which roles can different classes of bio-based chemicals play and what are their market needs? Based on ongoing discussions and the results of the first RoadToBio workshop, experts from the project consortium propose to introduce a classification in three different classes of bio-based chemicals, namely drop-ins, smart drop-ins and dedicated chemicals.
Get a closer look on the updated definitions in the next newsletter.
Introduction of the RoadToBio Team
The consortium of this two-year project, which started in May 2017, consists of four members:
They bring in complementary expertise in relevant fields of the bioeconomy and chemical industry, covering in depth all aspects that need to be included in the roadmap.
­ ­ ­
­
This project has received funding from the Bio-Based Industries Joint Undertaking under the European Union's Horizon 2020 research and innovation programme under grant agreement No. 745623.
Source
Second Newsletter January 2018, 2018-01.
Supplier
Bio-based Industries (BBI) Joint Undertaking
Biomass Technology Group BV (BTG)
DECHEMA Gesellschaft für Chemische Technik und Biotechnologie e.V.
E4tech
nova-Institut GmbH

Share