Dear reader,
We would like to welcome you to the first RoadToBio newsletter. In a few words, we would like to introduce you to a BBI funded project that is already intended to show the chemical industry the way into a more bio-based world. You will have the opportunity to set the roadmap for the chemical industry towards a stronger bioeconomy and to and actively participate in shaping the a more bio-based future. ­
­ ­ ­
­Lea König
DECHEMA e.V.
on behalf of the RoadToBio consortium ­
­ ­ ­
­ ­
Please consider to subscribe to this RoadToBio newsletter series personally.
­
"How can the European chemical industry remain competitive and at the same time become more sustainable?"
This is the main question for the EU funded RoadToBio project. In order to meet societal needs and help shape the future of the industry, a roadmap is being developed.­
­
Content:
Roadmap for the chemical industry
Considered branches
Expert platform
Join the network
What you can expect from the next newsletter?
Introduction of the RoadToBio Team­
1. Roadmap for the Chemical Industry
The roadmap will outline a path for achieving a 30 per cent share of bio-based products in the organic chemical industry in 2030 (as compared to 12 per cent in 2016). The roadmap will consist of two parts:
Part 1: Analysis­
An analysis of the most promising opportunities for increasing the bio-based portfolio, and the technical, commercial, regulatory and social barriers that currently hinder the full development of the bio-based industry.
Part 2: Action plan
A strategy, action plan and engagement guide for achieving an increased bio-based portfolio, overcoming the existing and anticipated barriers and bringing together different parts of chemical industry, society and governing bodies.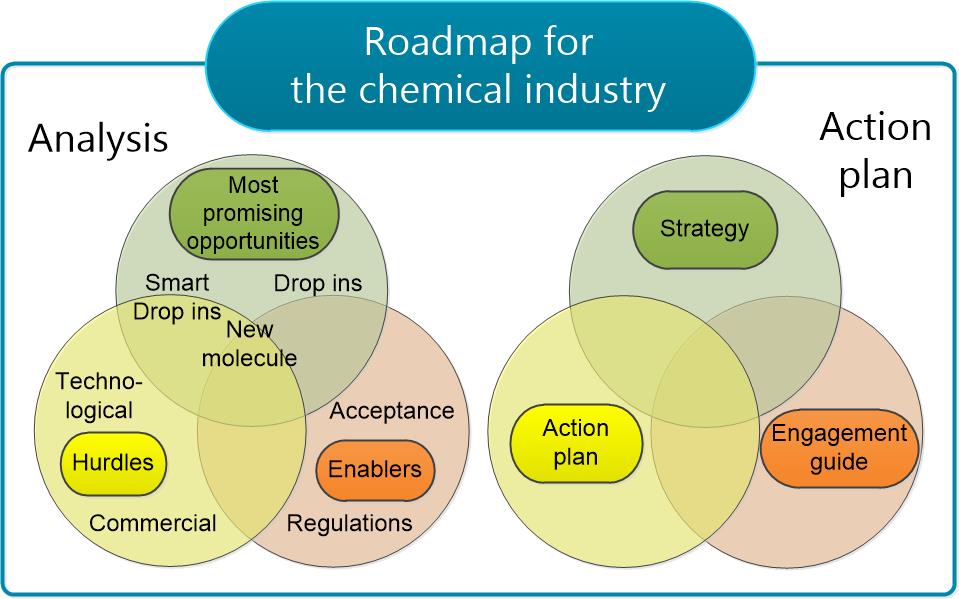 ­
2. Considered branches included in the roadmap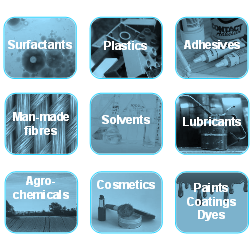 RoadToBio seeks to identify new opportunities for bio-based chemicals in nine different sectors. A previous study by consortium partner nova identified several of these classes in which bio-based value chains already make up for a significant share, but can still be strengthened:
Surfactants
Plastics
Adhesives
Man-made fibres
Solvents
Lubricants
Agrochemicals
Cosmetics
Paints, coatings, dyes
3. Expert platform
The RoadToBio project will create an interactive platform of experts, which brings together the chemical industry, civil society and governing bodies, in order to establish a dialogue on the activities needed to deliver the full potential of the roadmap.
4. Join the network
We would like to invite you to join us on the journey to a more bio-based chemical industry. The Roadmap should contain clear, realistic goals. With your knowledge, it is possible to create a strong roadmap with a high impact. Therefore, we will conduct workshops and webinars to involve you as stakeholder.
Your opinion is of utmost importance to us. Through a participation you get the opportunity to help shape the development process and to find your opinion later in the roadmap.
How?
5. What you can expect from the next newsletter
In the next newsletter we would like to present you the first results of the project. They will show bio-based opportunities for the chemical industry and where bio-based chemicals meet existing value chains in Europe.
In total, over 500 petrochemical value chains were analysed, which showed more than 1,000 entry points for bio-based chemicals. For 85% of the existing petrochemicals at least one bio-based route was found that is available at either demonstration or commercial scale. ­
6. Introduction of the RoadToBio Team
The consortium of this two year lasting project, which has been started in May 2017, consists of four members:
They bring in complementary expertise in relevant fields of the bioeconomy and chemical industry, covering in depth all aspects that need to be included in the roadmap. ­
­ ­ ­
­
This project has received funding from the Bio-Based Industries Joint Undertaking under the European Union's Horizon 2020 research and innovation programme under grant agreement No. 745623.
Source
RoadToBio newsletter December 2017, 2018-01.
Supplier
Bio-based Industries (BBI) Joint Undertaking
Biomass Technology Group BV (BTG)
DECHEMA Gesellschaft für Chemische Technik und Biotechnologie e.V.
E4tech
nova-Institut GmbH

Share