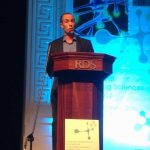 A PhD student has created a technology which could enable multi-national companies to reduce the cost of replacing petroleum based surfactants, fuels and other chemicals with environmentally friendly biosurfactants and biologically produced fuels and chemicals.
Ben Dolman studies biochemical engineering at The University of Manchester under the supervision of Dr James Winterburn, and his technology, which separates biochemicals as they are produced by fermentation, has so far been demonstrated with sophorolipid biosurfactants.
It could also be applied to other insoluble biochemicals produced for use as fuels, as industrial chemicals and in personal care, such as terponoids and MELs.
At present, sophorolipids are used in laundry detergents, dishwasher detergents and personal care products, while production costs still limit production for bulk applications such as bioremediation (the clean-up of oil spills and other pollutants).
Ben commented: "By facilitating around double the production of sophorolipids per batch, as well as reducing energy and separation costs, this technology has the potential to dramatically reduce production costs and so expand the use of these environmentally friendly chemicals."
The 26-year-old has been working closely with The University of Manchester's agent for intellectual property commercialisation UMIP over the past 12 months, and says he always knew his idea had commercial potential.
"With a rapidly expanding market for biochemicals and sophorolipids in particular, this separation technology provides a promising opportunity to reduce costs and expand into the bulk chemicals sector," said Ben.
"The simplicity of the design, combined with the possibility to easily retrofit the separator to existing processes, means the technology can be quickly implemented with minimal costs."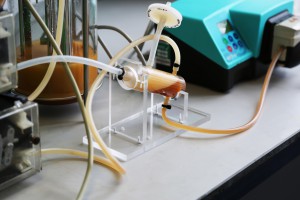 Ben now plans to demonstrate this technology with other bioproducts and at scale.
"Now that we have demonstrated the capacity of this technology to recover sophorolipids, having filed a patent and published a paper on the work, we are looking to expand the scope of this project," he said.
"This technology should be applicable to most insoluble or partially soluble bioproducts, and we have planned to develop this aspect in the coming months as well as scale up the separator and develop automated control systems."
Ben would love to hear from any interested parties, and can be contacted through UMIP or his university profile.
Further information can also be found at the following links:
http://www.sciencedirect.com/science/article/pii/S1359511316308418
https://www.youtube.com/watch?v=jwT22t5lVKQENDS
Source
University of Manchester, press release, 2016-02-07.
Supplier
Share