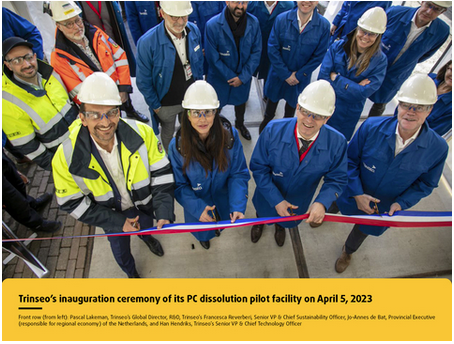 Trinseo (NYSE: TSE), a specialty material solutions provider, announced today the inauguration of its polycarbonate (PC) dissolution pilot facility in Terneuzen, the Netherlands on April 5, 2023. The new pilot facility is a major step in Trinseo's commitment to sustainability, part of the journey in realizing the company's sustainability goals. The guests of honor at the inauguration ceremony included Jo-Annes de Bat, Provincial Executive (responsible for regional economy) of the Netherlands.
Trinseo is excited to announce the inauguration of our polycarbonate (PC) dissolution pilot plant in Terneuzen, the Netherlands. This technology allows us to extract 100% recycled PC for use in new materials. (Photo: Business Wire)
An essential element of Trinseo's innovation is focused on developing and delivering sustainable solutions. Across all businesses, this is a driving force behind our R&D efforts. While we are currently in the R&D phase, the state-of-the-art pilot facility is situated in a temporary area in Trinseo's Terneuzen site and will later be moved into the Central Process Research Laboratory in the same site, which is currently under construction.
"Dissolution recycling" is a type of physical recycling process where the needed polymer is extracted by the use of solvents. The extracted polymers will then be used to make new recycled polymers. Trinseo's PC dissolution technology is an advanced technology by which post- or pre-consumer materials containing PC, be it an automotive or consumer electronics part that is mixed with other plastics, metal or even glass, can be put directly into the solvent without any pre-treatment. The solvent will dissolve PC contained in those end-of-life parts while all other non-PC materials will remain, and can then be used for other recycling purposes. The dissolved PC extracted is 100% recycled PC that could be used for compounding into new materials for an array of applications, such as mobile phone casing, printer enclosure or automotive parts.

"We are very excited to have started up the pilot facility for PC dissolution," said Francesca Reverberi, Senior Vice President & Chief Sustainability Officer at Trinseo, "This technology deepens the potential in circularity."

"This is a R&D milestone in Trinseo's sustainability journey," added Han Hendriks, Senior Vice President, Chief Technology Officer. "With our expanding R&D capabilities and organization, more robust innovations are in the pipeline."
The pilot plant will play a significant role in helping Trinseo achieve its 2030 Sustainability Goals, while accelerating recycling and increasing the supply of sustainable feedstock.
About Trinseo
Trinseo (NYSE: TSE), a specialty material solutions provider, partners with companies to bring ideas to life in an imaginative, smart and sustainably focused manner by combining its premier expertise, forward-looking innovations and best-in-class materials to unlock value for companies and consumers.
From design to manufacturing, Trinseo taps into decades of experience in diverse material solutions to address customers' unique challenges in a wide range of industries, including building and construction, consumer goods, medical and mobility.
Trinseo's approximately 3,400 employees bring endless creativity to reimagining the possibilities with clients all over the world from the company's locations in North America, Europe and Asia Pacific. Trinseo reported net sales of approximately $5.0 billion in 2022.
Source
Trinseo, press release, 2023-05-15.
Supplier
Share
Renewable Carbon News – Daily Newsletter
Subscribe to our daily email newsletter – the world's leading newsletter on renewable materials and chemicals