28–29 November 2023, Cologne, Germany and online
https://advanced-recycling.eu
Continuing the successful journey of last year's debut, this year's program of the Advanced Recycling Conference will provide well-balanced insights into the versatile world of advanced recycling solutions. A broad spectrum of presentations will cover different material waste streams from plastics to waste, composites and textiles. More than 250 participants from 25 countries have already registered to explore innovative technologies and processes to keep carbon in the loop.

The program was assembled with the help of an interdisciplinary advisory board including key experts from industrial chemistry, waste disposal, brand manufacturing, industrial association, and academia, and grew into a colourful buffet with two parallel sessions.
We are excited to welcome speakers and participants from. ** BASF ** Beiersdorf ** Braskem** Continental ** Covestro ** Denso ** Der Grüne Punkt ** Fraunhofer ** Henkel ** HiPP ** Indaver ** INEOS Styrolution** Kuraray ** LEGO ** LG Chem** Lubrizol ** Mercedes-Benz ** Michelin ** On ** Orlen ** Plastics Europe ** Procter & Gamble ** REDcert ** RISE ** S&P Global ** Schüco ** Shell ** Siemens Bank *Solvay * Stahl ** Sulzer ** Teijin ** tesa ** Thyssenkrupp ** TNO ** Topsoe ** TOTAL ** TotalEnergies Corbion ** Trinseo ** Unilever ** Wacker.
Solutions to successfully mitigate climate change
The EU is taking significant strides to enhance the circular economy of plastics through various directives. One such directive, EU Directive 2018/852, is geared towards achieving recycling quotas of 70% for all packaging materials and 55% for plastics. Additionally, the revision of the Packaging and Packaging Waste Directive (PPWD) is targeting recycled content quotas of 30% for contact-sensitive packaging (PET) and 10% for contact-sensitive packaging (other plastics). Meeting these legal requirements poses severe challenges for various industries. To address these challenges, the Advanced Recycling Conference 2023 offers a broad range of effective solutions tailored to different waste streams. Join us in Cologne, Germany, to gain valuable insights and strategies for navigating the evolving landscape of plastic recycling.

Find the full program at https://advanced-recycling.eu/program/
This year's program will equip you with effective solutions and covers topics such as
Policy, Markets and Strategy
Pyrolysis and Other Thermochemical Approaches
Dissolution
Versatility of Extruders
Depolymerisation
Pre-/Post-treatment & Upgrading
Gasification
LCA and Environmental Aspects
Ten reasons why you should join
Still not convinced? Here are 10 reasons why you should join the event;
A unique concept to showcase the world of advanced recycling including recycling technologies, pre- and post-processing, policy & markets, and sustainability
The world's key players in advanced recycling will present, share and discuss their latest developments, visions and strategies
A conference packed with valuable content including:
– 35 presentations (https://advanced-recycling.eu/program)
– 10 exhibitors (https://advanced-recycling.eu/exhibitors)
– 12 posters (https://advanced-recycling.eu/poster-session)
Latest innovative technologies: Leading technology providers and start-ups present their latest developments
Update on Markets & Policy: How partnerships accelerate markets and how to make Chemical Recycling a success story in Europe
Learn more about Sustainability, Environmental & Health aspects
Nine panel discussions with speakers and the audience
235 participants from 25 countries already registered, more expected – the participant list can be accessed here: https://advanced-recycling.eu/participant-list
1:1 meetings, dinner buffet, and an evening meeting point ensure extensive and effective networking, with zoom events a great online networking platform
The 36-page conference journal including the final program can be downloaded here: https://advanced-recycling.eu/download/39784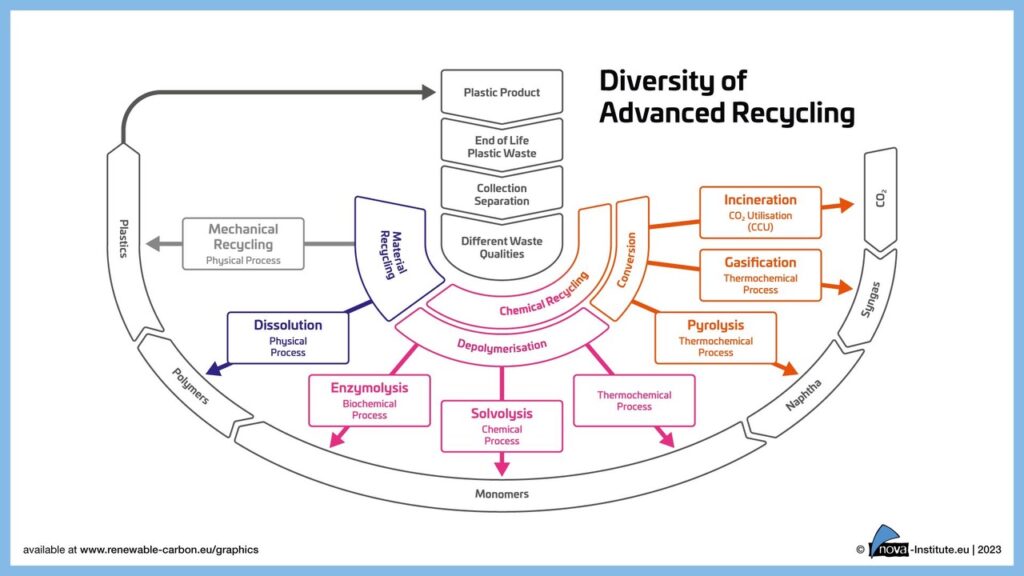 Source
nova-Institute, press release, 2023-11-20.
Supplier
BASF Corporation (US)
Beiersdorf AG
Braskem
Continental, Corp.
Covestro AG
Der Grüne Punkt Holding GmbH & Co.
Fraunhofer-Gesellschaft
Henkel KGaA
INEOS Styrolution
LEGO Group
Mercedes Benz Deutschland
nova-Institut GmbH
Procter & Gamble
REDcert GmbH
Research Institutes of Sweden (RISE)
Schüco International KG
Solvay
Sulzer Chemtech Ltd.
tesa SE
ThyssenKrupp Industrial Solutions
Total
Unilever

Share
Renewable Carbon News – Daily Newsletter
Subscribe to our daily email newsletter – the world's leading newsletter on renewable materials and chemicals