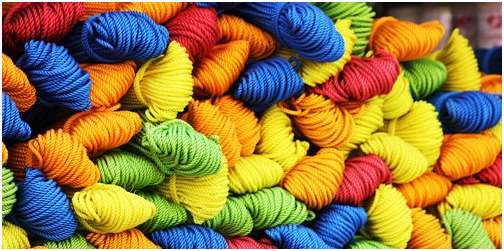 As biobased products continue to be developed around the world, one sector in particular has brought the layman consumer into contact with the bioeconomy: clothing. Clothes have actually always been biobased, with the principal materials being natural fibres and materials such as cotton, leather, and wool, and later viscose.
Over the last century, novel biobased materials began to develop. Early examples include nylon produced from Arkema's highly successful polyamide Rilsan, and glasses frames have been made from cellulose acetate for many years, but innovation never stops, and the past decade has seen some major developments in biobased textiles. One classic case is Dupont's Sorona fibres, which began production in the 2000s. These fibres are made from DuPont Tate & Lyle Bio Products' Susterra 1,3-propanediol, and feature 37% biobased content. Susterra is also the platform for the production of biobased polyurethanes, used as coatings and membranes in waterproof garments.
In recent years, more and more biobased clothing products are appearing on the market, made from a huge variety of biobased materials. In no particular order, here are ten of our favourites:
T Shirt – Avantium/Nike
Among one of the first instances of biobased clothing came all the way back in 2013, when Avantium demonstrated that their 100% biobased polyethylene furanoate (PEF) could be made into fibres. This accompanied a demonstration that said fibres could also be produced from recycled bottles also made from PEF. Cue the production of 100% biobased T-Shirts (in a highly fetching yellow colour…) to highlight this breakthrough. This followed in the footsteps of Nike in 2010, who used recycled polyethylene tetraphthalate to produce fibres used to make the kits worn by teams at the football World Cup in South Africa.
Glasses – Esprit
Fashion brand Esprit have released biobased glasses frames as part of their Esprit Eyewear ECOllection. The frames are made from plastic derived from castor oil instead of petroleum, and are said to be both lightweight and flexible: essential characteristics for glasses frames.
Walking boots – VAUDE
Here at NNFCC we have several members of the scouting movement, and so the prospect of biobased hiking gear was always going to excite us. Earlier this year we reported on outdoor clothing brand VAUDE's use of bioplastic in their Skarvan range of hiking shoes. The biobased thermoplastic polyurethane is produced by using Reverdia's Biosuccinium, a biobased succinic acid, and was used for the toecaps and heel counters of the shoes, in keeping with VAUDE's ethos of producing sustainable outdoor clothing, and also demonstrating bioplastics' capacity to have the same durability and performance of traditional plastics.
Jacket – Bergans
Continuing with the outdoorsy theme, another piece of biobased hiking gear that has caught our eye is Norwegian company Bergans' Eidfjord jacket. The jacket is designed to provide maximum protection from the elements while remaining comfortable and breathable, and is made with Toray's Ecodear biobased polylactic acid.
Jacket – Tierra
Bergans' jacket is not the only one to have impressed us. Their Swedish neighbours Tierra have this year released their Deterra jacket. This jacket is particularly groundbreaking as it is the first of its kind to be 100% biobased, which is a significant landmark for any biobased product.
Wetsuit – Patagonia
But it is not just general clothing that is becoming biobased; as is to be expected, there is also a market for biobased specialist clothing, and few items of clothing are more specialised than a wetsuit. A wetsuit needs to provide excellent insulating properties, as well as be flexible and durable. Patagonia's Yulex wetsuit is made from 85% natural rubber, as opposed to fossil-derived equivalents. The performance offered is still very high, and the rubber itself is sustainably sourced (being certified by the Rainforest Alliance and FSC).
Bike helmet – Ecohelmet
It's easy to forget, what with the myriad applications of biobased plastics, chemicals and the like, that the bioeconomy encompasses more than these materials. Paper is also a huge sector within the bioeconomy, and forms the backbone of this particular innovative product. The Ecohelmet won the 2016 James Dyson award for design, by offering a fully recyclable temporary cycling helmet, that provides all of the protection of a standard helmet, making it an ideal choice for those who do not cycle regularly, or who use "bike share" schemes such as that seen in London.
Trainers – Adidas
However, it's not just heavy-duty clothes breaking into the biobased scene. Among the most eagerly awaited clothing products of 2017 is Adidas' upcoming Futurecraft trainers, and with good reason: the shoes have 3D-printed midsoles, and represent the biggest commercial application (by volume) of 3D printing to date, but more significant to the bioeconomy is the material from which the shoes' fabrics are made. The tops of the trainers are made from synthetic spider silk. The silk itself is produced by German company AMSilk, under the name Biosteel. Spider silk has been a material of interest for many years due to its incredible strength for its thickness, with many applications proposed, but this is one of the first times that it has been used for clothing. Adidas claim that the Biosteel threads are 15% lighter than those of their usual fabrics, which is a useful trait for trainers. It is, however, still unclear how expensive these trainers are set to be, as the silk is still expensive to produce.
Tie – Bolt Threads
But Adidas were not the first company to utilise spider silk for clothing. American company Bolt Threads is aiming to produce spider silk fabrics for a wide range of clothes, thanks to the fabrics' inherent flexibility, elasticity, water resistance, and strength. Earlier this year, Bolt Threads released the world's first spider silk product: a necktie. Only 50 of these ties were produced and were sold in a lottery, but this was a significant breakthrough nonetheless, and hopefully the sign of things to come.
Leather – Modern Meadow
The most common associated benefit of biobased products is the reduction in the use of petroleum-based equivalents, but there are some products that aim in a different direction for the same reason. The leather industry requires the rearing of animals for leather production, which requires both land and resources, not to mention the well-established greenhouse gas impact of the ruminants whose hides are used for leather. To counteract this, Modern Meadow have developed a "biofabricated" leather. The leather is produced from microbial collagen, which allows for many different applications then traditional leather, as it is not constrained in size or shape. This includes the exciting prospect of "liquid leather", which allows for adhesion and repair of leather without the need for stitching, also vastly improving the manufacturing options for leather products. All of this, whilst remaining biobased.
Honourable Mention: Dye – Colorifix
Although not strictly a biobased clothing product in itself, we felt that this was worthy of inclusion, if not in the main list. UK-based startup Colorifix have developed a revolutionary dyeing process. It is not a widely publicised fact that the dyeing and textiles industries are responsible for a large proportion of global water pollution, but also massive consumption of fresh water. Colorifix's process involves the use of microbes to fix dyes to fabrics, removing the need for heavy metals and organic solvents, that can contribute to water pollution. This process is potentially revolutionary for an industry with such a large yet understated environmental footprint.
Author
Bob Horton
Source
NNFCC, press release, 2017-11-09.
Supplier
adidas Group
Arkema
Avantium Technologies B.V.
Bergans
Bolt Threads
Colorifix
DuPont Tate & Lyle Bio Products
EcoHelmet
Esprit
Modern Meadow
Nike
NNFCC
Patagonia
Tierra
VAUDE

Share
Renewable Carbon News – Daily Newsletter
Subscribe to our daily email newsletter – the world's leading newsletter on renewable materials and chemicals