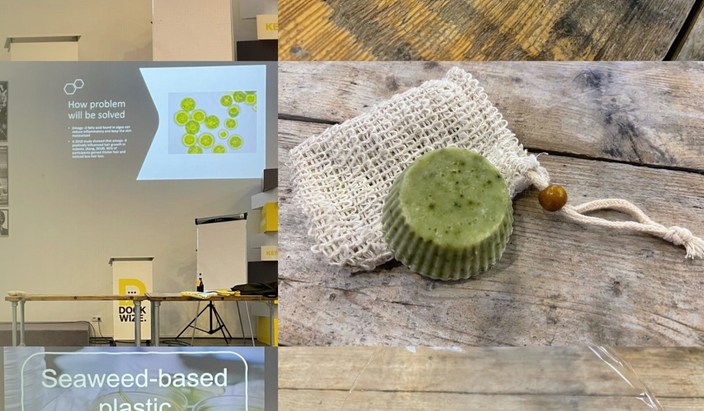 Seaweed is everywhere. Certainly in the province of Zeeland. So it is time to zoom in on the possibilities it offers. Some HZ chemistry students did just that during their Research Minor. Under the supervision of Dockwize, they even went a step further: they developed products. And not just any products.
Lidija Pakalnickaite developed a shampoo block based on seaweed. "Thanks to Dockwize, I did some in-depth research into what the market wants and based my product strategy on this. Problem 1: shampoo often contains toxic substances that are harmful to your skin. And problem 2: shampoo bottles can leak while travelling. I developed a solution for this with my shampoo block." Seaweed turned out to be the ideal ingredient for shampoo. "When I researched the composition of seaweed, I found significant concentrations of Omega-3 fatty acids. These improve the health of the skin. By combining these with other plant substances, I now have a shampoo in solid form that does not poison the skin, but improves it."
Effervescent tablet
Lydia Sloof also developed a care product. "I wanted to make a vibrating ball based on seaweed. But when I started doing interviews to market my innovation, it turned out that many people do not have a bath. They do like to take a foot bath sometimes, but an effervescent ball is too big for that. So I developed an effervescent tablet that you can break off a bit at a time. Here again, seaweed proved to be a very suitable raw material. "Seaweed contains Omega-3s as well as a lot of antioxidants, which are good against ageing. Thanks to the local source that seaweed is, my product is also much more sustainable than other wellness products that often contain palm oil."
Plastic
Elizaveta Samoylova took an entirely different approach to her research. She developed seaweed plastic. "The big advantage is that it is biodegradable. I have now developed a plastic that breaks down completely in seawater within ten minutes. But therein lies the challenge, because you don't want plastic packaging to break down immediately on contact with water. I have also developed other forms of seaweed plastics that keep their shape longer, but there is still further research to be done before it can be used in the large packaging market."
Is seaweed the future? Yes it is!
So many great, promising products. Is seaweed the future? According to the students it is. Lidija: "It is local, sustainable, healthy. Yes, seaweed has a very promising future. "People will have to get used to it", adds Lydia. "I had to get used to it myself. But here on the coast you see so much seaweed. It's there for the taking. We just have to do something with it!
Water management student Patrick van Zweden researched the seaweed market and cautiously tempers the enthusiasm: "It is really nice what has been developed now, but you can also see that there are still many uncertainties in the process from growth to production. Seaweed is a natural product that is subject to factors such as the purity of the sea, temperature, amount of light, boats passing by and more. Also, the type of seaweed and the processing techniques have not yet been fully worked out. But it is extremely cool to see what is already being made of it. This is undoubtedly just the beginning."
And so it is, this is just the beginning. Also for the cooperation between HZ and Dockwize in the Research Minor. We are already looking forward to the next steps and innovations that we will discover and shape together with students.
Source
Bio-based Delta, press release, 2021-09-15.
Supplier
Biobased Delta
Centre of Expertise Biobased Economy (CoEBBE) - Avans
Dockwize NL
HZ University of Applied Sciences
Zeeland Province

Share