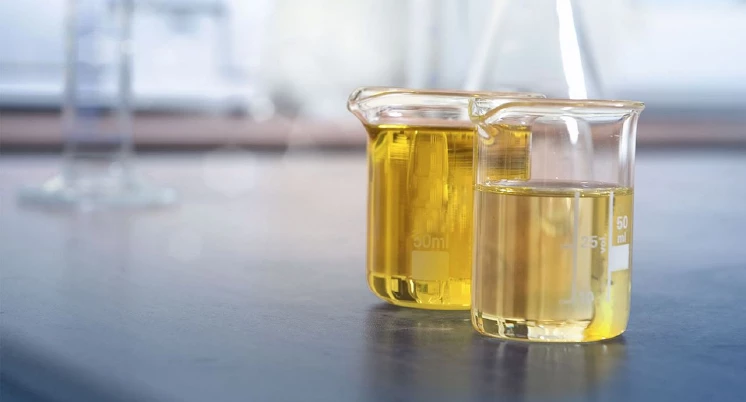 The RAMPF Group has developed a pioneering upcycling approach for the manufacture of customized polymer aerogels. In contrast to conventional methods that involve costly sorting processes, RAMPF's new technology enables the processing of mixed polyurethane-based production scraps into eco-friendly and ultralight materials for use in thermal insulation, lightweight fillers, rheology additives, and oil binding agents, amongst others.
The chemical recycling of plastics is increasingly becoming the focus of attention for its role in reducing the dependence on fossil fuels and mitigating the global plastic pollution crisis. It essentially involves breaking down plastic waste into its chemical components so that it can be reused as feedstock to produce new products instead of being landfilled or exploited in incineration plants.
Whilst conventional chemical recycling methods usually involve costly sorting and separating processes for different plastics into single-origin material flows or demand a high energy input, RAMPF has developed a groundbreaking chemical solution for the direct upcycling of unsorted polyurethane scraps into customized polymer aerogels.
This comprises the
1. Glycolysis of mixed polyurethane scraps to obtain a recycled polyol.
2. Synthesis of a polyurethane-based gel.
3. Supercritical drying of the wet gel to obtain an aerogel.
Dr. Gerd-Sebastian Beyerlein, Director of New Business Development at RAMPF and Technology Lead – "During the course of this development, we found that the technical properties of the aerogels are highly dependent on their physical microstructure, while the purity of the feedstock plays a less significant role. The aerogels we synthesized from different batches of mixed production scraps possess a well-defined and adjustable mesoporous microstructure as well as very low thermal conductivity in the range of comparable high-performance insulation materials. This demonstrates the robustness of this novel upcycling approach, which was developed completely in-house with regard to the materials used."
Potential for upcycling diverse types of polymers
For the development of a first proof of concept, mixed polyurethane production scraps from RAMPF Tooling Solutions RAKU® Tool modelling boards were used. However, preliminary tests indicate that the valorization approach is not limited to a certain type of polymer. This could open a path of cutting-edge research that will propose solutions for the treatment of complex plastic waste.
Dr. Beyerlein, who has been involved in the development of aerogel technology for over a decade, explains – "The transfer of this newly developed approach to other polymers as well as bio-based precursors could significantly accelerate the development of holistic circular economies. We are convinced that it has the potential to pave the way for a new generation of sustainable value-added polymers and can effectively contribute to the reduction of plastics waste in our ecosystem."
The project has received funding from the German Federal Ministry for Economic Affairs and Climate Action and is part of the German cluster "Aerogels for Energy Efficiency" led by Prof. Dr.-Ing. Irina Smirnova, Head of the Institute of Thermal Separation Processes and Vice President Research of the Hamburg University of Technology.
"This unique combination of aerogel and recycling technology is a very promising candidate for the industrialization of aerogels. Furthermore, the work being done by RAMPF demonstrates that implementing robust circular economy value chains can sometimes demand out-of-the-box thinking."

Michael Rampf, CEO of the RAMPF Group – "With this new approach we have again demonstrated that we are a true chemical recycling pioneer. Whilst our company RAMPF Eco Solutions has been developing and optimizing the processing of sorted production scraps for more than two decades, we have now found a revolutionary solution that could signal the end of unsorted residues being incinerated or thrown in landfills."
Detailed information on this technological development can be found in the recently published open-access manuscript "Novel robust upcycling approach for the manufacture of value-added polymers based on mixed (poly)urethane scraps".
About RAMPF Holding GmbH & Co. KG
The international RAMPF Group stands for engineering and chemical solutions and caters to the economic and ecological needs of industry.

The family-owned company specializes in the development and manufacture of reactive resin systems, machine systems, and lightweight construction with composites.

RAMPF thinks globally and acts locally – the group of companies has its own production facilities at strategically important locations in Germany, the USA, Canada, China, Japan, and Korea.
Source
Rampf Group, press release, 2023-09-07.
Supplier
American Chemical Society (ACS)
Bundesministerium für Wirtschaft und Klimaschutz (BMWK)
RAMPF Eco Solutions
Technische Universität Hamburg-Harburg

Share
Renewable Carbon News – Daily Newsletter
Subscribe to our daily email newsletter – the world's leading newsletter on renewable materials and chemicals