EU project Zelcor (www.zelcor.eu) is organising the 1st summer school on waste biorefineries in the context of bioeconomy, with a focus on valorization of recalcitrant side streams will be held on 2-6 September 2018 at Wageningen International Congress Centre (WICC), Wageningen, Netherlands. A panel of specialists in the biorefinery field will provide an up-to-date state-of-the-art overview based on the latest advances in terms of scientific knowledge, techno-economic developments and life cycle assessment methodologies.
The course will be composed of lectures with an opportunity to discuss these topics among industry and academic experts. Experts from the industry and university (Avantium, Green Value Enterprises LLC, Arterra, Skretting ARC, SABIC, Ynsect, Quantis, nova-Institut GmbH, Wageningen University & Research, INRA and University of Warwick) will talk about various topics. Topics include; Zero waste biorefineries, Markets and products, Conversion processes and tools, value chain assessment of zero waste biorefineries and their products, and several case studies about zero waste biorefinery. The programme is available at www.zelcor.eu/summerschool
Furthermore, there will be poster presentations, an excursion to a Dutch biorefinery factory and the participants will have the chance to apply their acquired knowledge through case studies carried out in groups.
The Zelcor project received funding from the Bio Based Industries Joint Undertaking under the European Union's Horizon 2020 research and innovation programme under the grant agreement No 720303.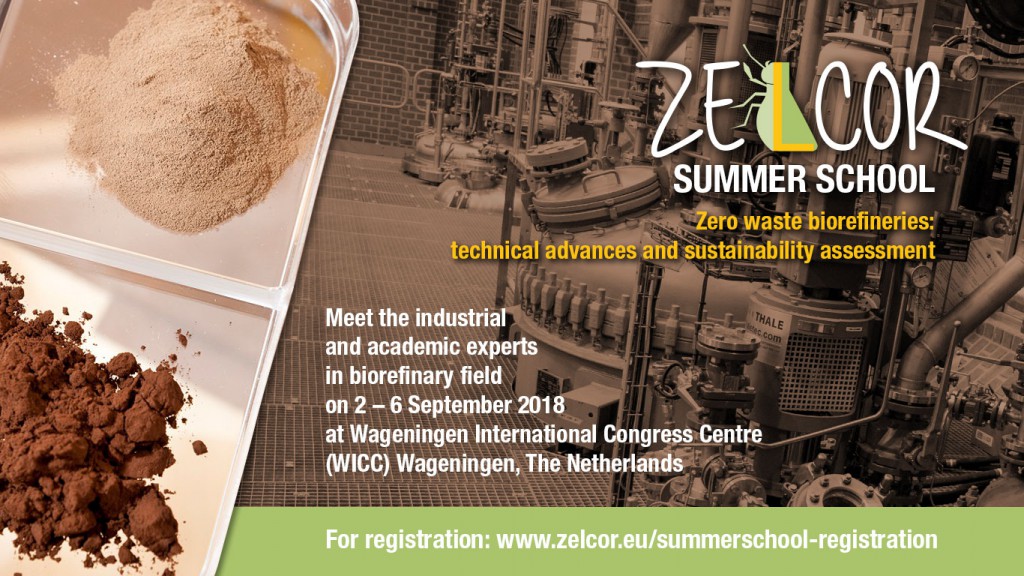 Source
Supplier
AgroParisTech
Avantium Technologies B.V.
French National Institute for Agricultural Research (INRA)
nova-Institut GmbH
Quantis
SABIC
University of Warwick
Wageningen University
Ynsect

Share