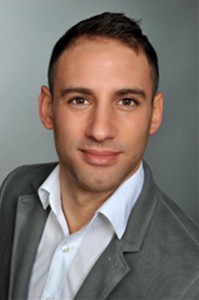 Dr. Ángel Puente, M. Sc., joined the nova-Institute in 2017, working in the sustainability department. With his background in Chemistry, Ángel Puente will support the nova-Institute in the area of Life Cycle Assessments of bio-based chemicals and materials as well as processes. Moreover, market research and feedstock analysis are topics of his work. 
Tasks at nova-Institute
He is involved in various European projects on bio-based economy. For instance, in the ReSolve project (Horizon2020), aiming to replace traditional hazardous fossil-based solvents with safe alternatives derived from non-food carbohydrates, Ángel will provide an insight regarding the environmental preference of the ReSolve products.
Ángel is also involved in SuperBio, a Horizon2020 innovation project that aims to develop new, innovative, cross-border and cross-sectorial industrial value chains in the Bio-Based Economy.
Within RoadToBio Ángel will work on delivering a roadmap that shows the sweet spots for the chemical industry in the coming decade (up to 2030) bringing together different parts of the chemical industry, society and governing bodies in order to help meet the targets of the Bio-based Industry Consortium 2030.
Background and expertise
Ángel Puente studied Chemistry and completed a master in Synthetic, Industrial and Applied Chemistry at the University of Basque Country (UPV-EHU) in Spain where he also took his Ph. D. in Organic Chemistry. His dissertation was based on the design and synthesis of novel organic catalysts and their application in new catalytic and enantioselective reactions. Particularly, within green chemistry, he investigated the suitability of new organic catalysts in water-containing systems.
After receiving his doctoral degree Ángel Puente moved to Munich, Germany, to do a Postdoc in Physical Organic Chemistry. His research activities involved the quantification of the reactivity of organic substances and the investigation of reaction mechanisms.
Before joining the nova-Institute in 2017, Ángel attended a Life Science Management course.
Among his interests are the environmental, food and pharmaceutical chemistry under the idea "Better living through Chemistry".
Selected Publications
Nucleophilic Reactivities of Bisacceptor Substituted Benzyl Anions. A. Puente, A. Ofial, H. Mayr. Eur. J. Org. Chem. 2017, 1196.
On the Nucleophilicity of Persistent α-Monofluoromethide Anions. A. Puente, Z. Zhang, F. Wang, M. Rahm, Y. Mei, H. Mayr, G. K. S. Prakash. Angew. Chem. Int. Ed. 2016, 55, 12845.
Enantioselective β-Vinylation of α,β-Unsaturated Aldehydes Using a β-Nitroethyl Sulfone as Vinyl Anion Equivalent. C. Gianelli, R. López, A. Puente, M. Zalacain, C. Palomo, Eur. J. Org. Chem. 2012, 2774.
Catalytic Conjugate Additions of Geminal Bis(sulfone)s: Expanding the Chemistry of Sulfones as Simple Alkyl Anion Equivalents. A. Landa, A. Puente, JI Santos, S. Vera, M. Oiarbide, C. Palomo, Chem. Eur. J. 2009, 15, 11954.
Water-Compatible Iminium Activation: Organocatalytic Michael Reactions of Carbon Centered Nucleophiles with Enals. C. Palomo, A. Landa, A. Mielgo, M. Oiarbide, A. Puente, S. Vera, Angew. Chem. Int. Ed. 2007, 46, 8431.
Contact
Ángel Puente
Phone: +49 (0)2233 481460
Email: angel.puente@nova-institut.de
Source
nova-Institut GmbH, 2017-06-29.
Supplier
Share