Using the color scale, the degree of retting of hemp straw can be determined in the field. During the drying and retting process, the predominant color of the straw is compared to the color scale. The hemp straw is pressed, when the color or degree of retting required by the customer prevails and the straw is sufficiently dry (< 18% moisture).
The color scale was developed by the LAP Forchheim, Rheinstetten, with support by the FIBRE Institute, Bremen, and realised in the context of the EU-project "Market Innovation Hemp".
We appreciate comments regarding the practicability of the hemp straw color scale and any suggestions for its further optimisation. Thank you in advance for your efforts.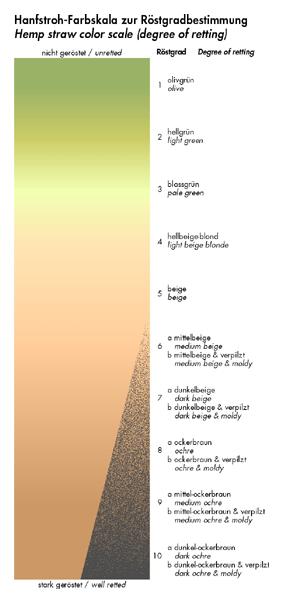 Price:x
1 piece: 15 DM/piece plus postage & package
> 5 pieces: 12 DM/piece plus postage & package
Share