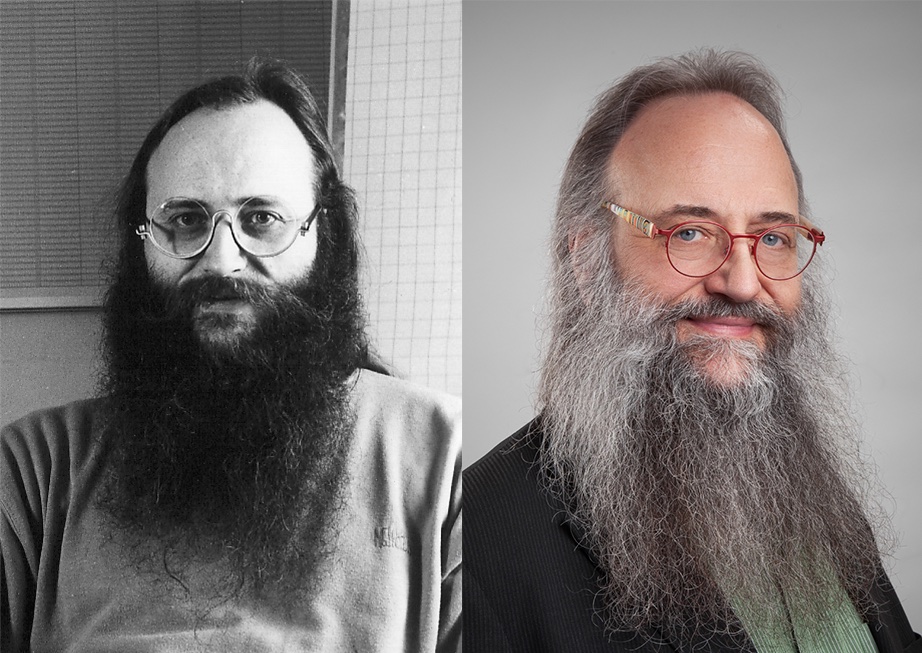 Michael Carus was born on 15 October 1956 in Cologne, Germany, as the oldest son. He grew up in Wuppertal, Germany, but his studies in physics and mathematics brought him back to his birthplace, where he received the degree "Diplom Physiker" (graduate physicist) in 1983. He was manager of the Ecology Department at the student administration (AStA) for several years.
For multiple years, Carus was university teacher for the tele-education at the University of Tübingen, in the topics of ecology, nuclear energy and radioactivity. At the same time, he worked as a science journalist for well-known magazines like "Bild der Wissenschaft" and as scientist at the KATALYSE Environmental Institute with a focus on energy and ecology.
His search for the right thematic focus continued and brought him to the IT area (Tektronix GmbH) as system manager for six years and for two years in the solar industry (Flachglas Solartechnik, parabolic trough systems). In the end, it brought him back to the KATALYSE Environmental Institute, now with more focus on energy, renewable resources and electric smog. In the beginning of 1993, Carus became department manager for renewable resources.
Carus and five other scientists found the nova-Institute in 1994
Having found the overall topic of resources as his specialty, 1994 became Carus' fateful year: At the end of 1994, he and five other scientists founded the nova-Institut GmbH – nova-Institute for Political and Environmental Innovation, a science-based research and consulting company. Ever since the beginning, Carus has been involved in the company as owner and one of two (now three) Managing Directors. From six employees back then, nova-Institute has grown to employing nearly 50 experts by now.
For many years, the bio-based economy was Michael Carus' main field of work. The decision to focus completely on industrial material use of biomass was taken early. For energy purposes, Carus saw the superiority of solar and wind energy as well as electric mobility to biomass usage very early on. But to replace fossil carbon in the chemical and plastics industry, biomass is indispensable – even though meanwhile additional alternatives become visible: The direct use of CO2 as renewable carbon source and recycling.
Pushing hemp and the bio-based industries
Carus further served as Managing Director of the European Industrial Hemp Association (EIHA) since its foundation in 2005. In this function, he joined the Lead Market Initiative (LMI) "Ad-hoc Advisory Group for Bio-based Products" (2010-2013), where nova has acted as a contributing member of the Technical Committee, CEN/TC 411 "Bio-based products" (2011-2015), member of the "Expert Group on Bio-based Products" of the European Commission (2013-2017), member of the Thematic Working Groups "Biomass supply" and "Market making" of the "Bioeconomy Panel" of the European Commission (2013-2014), as well as member of the SCAR Foresight experts group "Sustainable Bioresources for a Growing Bioeconomy" (2014-2015). On top of these activities, Carus was also active on an international level as a member of the FAO "Hard fibre group" and the steering committee of the "International Year of Natural Fibre (IYNF) 2009.
Renewable Carbon Initiative
After many years in the bioeconomy, this area became too narrow for Carus, especially since it became clear that the bioeconomy alone could never fully replace petrochemistry. That is why Carus expanded the focus of the nova-Institute in 2010 to include the utilisation of CO2, Carbon Capture and Utilisation (CCU), and in 2019 also recycling, especially chemical recycling.
Thus, all non-fossil carbon sources were in focus and consequently Carus, together with Christopher vom Berg, founded the Renewable Carbon Initiative (RCI) in 2020, whose main activities are advocacy, cooperation and background reports. By the end of 2022, the RCI includes 50 large companies, SMEs and start-ups as members, all of which have one goal: To support and speed up the transition from fossil carbon to renewable carbon for all organic chemicals and materials.
Today, Michael Carus is considered one of Europe's leading experts, market researchers and strategy advisors for the renewable carbon economy in the chemical and materials sector. Carus is the main author and co-author of many fundamental reports and policy papers concerning the renewable carbon economy. You can find a selection here and here.
Source
nova-Institute, press release, 2022-11-03
Share