Linda joint nova in 2013 as management assistant, supporting CEO Michael Carus in his work. From the very beginning, she acted as an editor and later editor in chief for Bio-based News and was jointly responsible for press relations and corporate communications. She organised workshops and lead European research projects.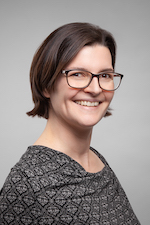 As nova grew and expanded its activities over the years, Linda supported the necessary restructuring processes. In the same course, she initially took over the management of IT in 2018 and from 2019 she became head of the communication department, a position she still holds today. In addition to the experts for communication and dissemination, the department also includes the sub departments Conferences, Graphics and IT.
Since September 2020, Linda has shared the management of the company with CEO Michael Carus as Chief Operation Officer and is responsible for ensuring optimal processes within the company, quality management and strategic development.
Background and expertise
Linda is a sociologist by trade. Born and raised in Rhineland-Palatinate, Linda moved to Cologne to study after graduating from high school. There she completed her Master in Sociology with the subsidiary subjects German Philology and Scandinavian Studies. She focused on network analysis, organisational sociology and acceptance theory.
Source
Supplier
Share
Renewable Carbon News – Daily Newsletter
Subscribe to our daily email newsletter – the world's leading newsletter on renewable materials and chemicals