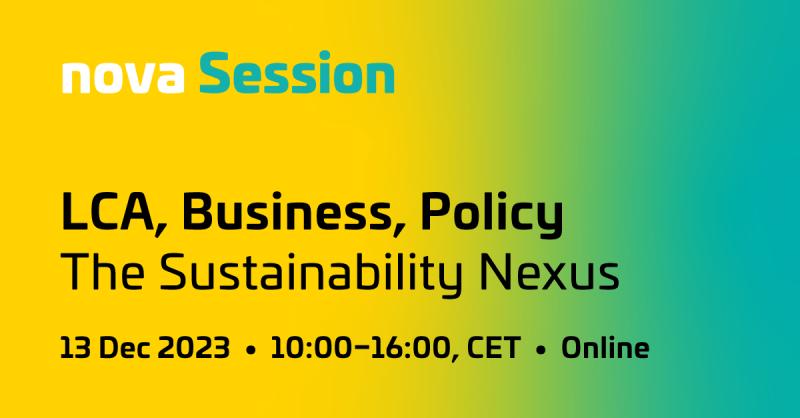 Sustainability is becoming a major factor for businesses, driven by at least three different aspects: Customers demand relevant information from the market, responsible entrepreneurs strive to reduce the negative impact of their actions, and various political directives oblige companies to report on several non-financial aspects of their business and products
Hosts: Lara Dammer, Matthias Stratmann (nova-Institute)
The good news is that many requirements that sound different have a common denominator. A good data base, knowledge of scientific methods, the use of synergies with other areas of the company and, finally, knowledge of the relevant regulations enable companies to approach the topic of sustainability in a positive and value-creating way.
This nova Session will give you the opportunity to learn about the basics of standardized Life Cycle Assessment methods and recent developments in sustainability initiatives. nova experts and guest speakers from the Commission and the JRC will explain the increasing requirements for sustainability reporting placed on your company by policy and how you can prepare for it. There will be ample space to discuss and answer your questions.
For more details and registration please visit: https://events.renewable-carbon.eu/event/lca-business-policy/
Topics include
LCA basics – methods and standards
ISO 14067, ISO 14044
New developments in sustainability assessment – examples PEF and "Together for Sustainability"
Product vs. Corporate Carbon Footprint – what do you need?
Evolution of LCA in policy
EU Taxonomy
Green Claims Directive
Ecodesign for Sustainable Products Regulation
Corporate Sustainability Reporting Directive
Corporate Sustainability Due Diligence Directive
Source
nova-Institute, press release, 2023-11-02.
Supplier
Share
Renewable Carbon News – Daily Newsletter
Subscribe to our daily email newsletter – the world's leading newsletter on renewable materials and chemicals