Teijin Limited and Teijin Chemicals Limited announced the development of eyeglass frames made from plant-based, heat-resistant bioplastic BIOFRONT, the worlds first bioplastic to be used for all plastic parts of eyeglass frames, including the temples. The frames were developed in collaboration with Tanaka Foresight Inc., which manufactures and sells approximately 60% of all plastic eyeglass parts in Japan.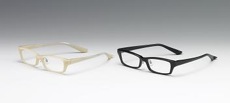 The new BIOFRONT frames will be exhibited at the Tanaka Foresight booth during the International Optical Fair Tokyo (IOFT 2009) at Tokyo Big Sight from October 27 to 29. Tanaka Foresight eventually expects to sell between 50,000 and 100,000 pairs of BIOFRONT eyeglasses per year.
Although acetate is commonly used for the plastic parts of eyeglasses, contact with cosmetics or hair-styling products can result in bleaching. Acetate also tends to warp under high heat and can cause skin rashes. The bioplastic polylactide has been used for eyeglass nose pads because its antibacterial properties help to avoid rashes, but conventional polylactide has not been used for other parts such as frames and temples because of insufficient heat resistance.
BIOFRONT, however, is an advanced polylactide that offers heat resistance comparable to that of oil-based plastics. Its melting point of 210 degrees, some 40 degrees higher than that of conventional polylactides, puts it on par with PBT, a leading engineering plastic. BIOFRONT also is highly resistant to bleaching and bacteria, making it ideal for the plastic parts of eyeglasses.
Teijin is aggressively developing and broadening the applications for BIOFRONT fibers, resins and films, such as clothing, interior items, office equipment, vehicles, home appliances and containers. The company plans to mass produce 5,000 tons of BIOFRONT in fiscal 2010.
Teijin is continuing to enhance BIOFRONTs performance. Technologies for polymers and molecular-level control mechanisms have been used to minimize hydrolysis in BIOFRONT without affecting its inherent heat-resistant properties, which will enable automotive and electronics applications that require high resistance to heat and humidity. Teijin also is exploring possibilities for the chemical recycling of used BIOFRONT products, aiming to further enhance the environmental friendliness of the plant-based bioplastic.
Source
Teijin Limited, press release, 2009-09-03.
Supplier
Share