ICT-BIOCHAIN, Europe's first Digital Innovation Hub for a circular bioeconomy, a 2-year initiative funded to the value of close to €1 million under the Horizon 2020 Biobased Industries Joint Undertaking, kicked-off in Brussels on the 28th of June 2018 and will run until May 2020. ICT-BIOCHAIN focuses on the development of efficient biomass supply chains for sustainable chemical production in bioeconomy regions across Europe. The Biobased Industries Consortium through its Strategic Innovation and Research Agenda, has established a target of 25% of European chemicals coming from biobased sources by 2030, and an increase in biomass availability of 20% by 2030 to help achieve this. ICT-BIOCHAIN will play a key role in helping to realise these targets by developing knowledge around bioresource availability and the integration of ICT tools to improve their availability for production of biobased chemicals and products.
In 2016, the European Commission designated six regions across Europe as Model Demonstrator Regions for Sustainable Chemical production, that is chemicals produced from locally available biomass, waste or CO2. Three of these regions are represented in the ICT-BIOCHAIN initiative. Irelands Lisheen Bioeconomy Campus (represented by the Irish Bioeconomy Foundation) and Andalucia (represented by Junta de Andalucia) are test bed regions within the ICT-BIOCHAIN project, where work will be undertaken to evaluate bioresource potential and feedstock-specific ICT and IOT solutions. The Scotland Model Demonstrator Region (represented by Industrial Biotechnology Innovation Centre at University of Strathclyde) will transfer learnings and technologies for assessing bioresource potential on a local authority level, which can be used as input for regional bioeconomy strategy and development. The knowledge and roadmap generated during ICT-BIOCHAIN will be transferred to other bioeconomy regions building capacity across Europe.
In the words of Ms. Judit Anda, Project Coordinator and Technical Counselor of the Andalusian Vice-Ministry of Agriculture, Fisheries and Rural development; "This project will take steps to boost regional and European bioeconomy . Undoubtedly, the implementation of cross-disciplinary solutions will lead the way to increasing the competitiveness in biomass supply chains".
According to James Gaffey, Principal Investigator at Institute of Technology, Tralee "We have seen a shift in the way we do agriculture, to smart agriculture, embracing the role that digital technologies can play in improving efficiencies within the agri sector. ICT-BIOCHAIN is about digitising the bioeconomy, creating a smart bioeconomy using the Digital Innovation Hub structure. ICT-BIOCHAIN builds on key research work by VTT for example, one of our competence centre partners, in digitising the forestry sector, and looks at integrating existing tools within new bioeconomy value chains. We also build in a regional dimension, building on learnings from Scotland on assessing regional biorefining potential".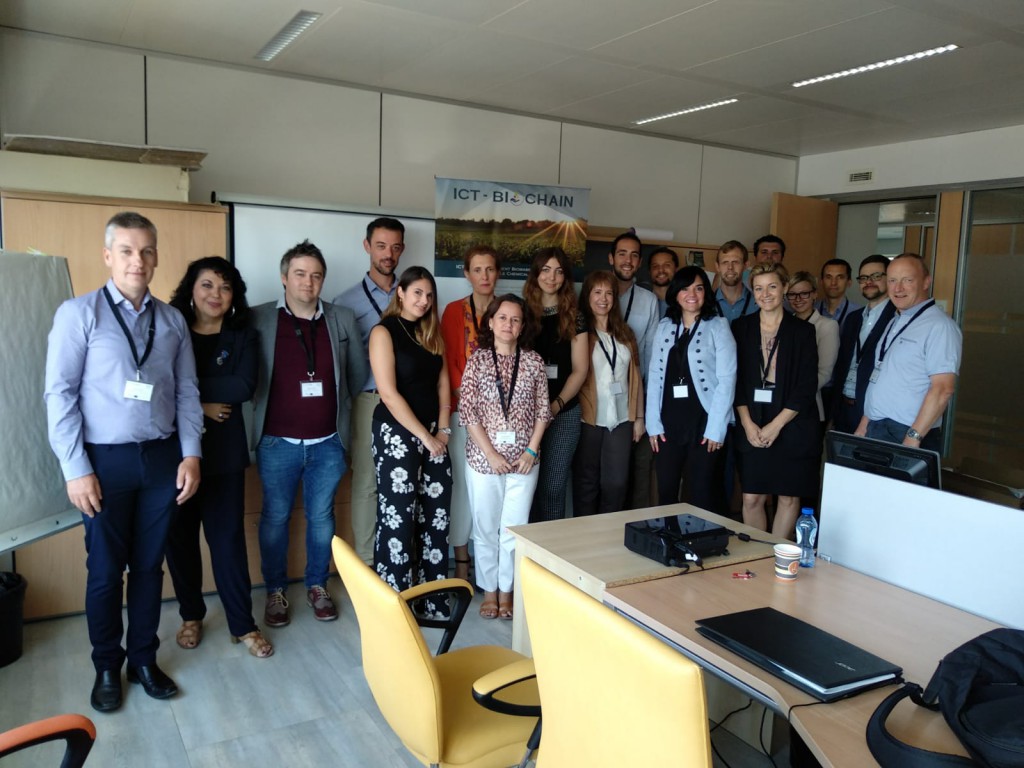 ICT-BIOCHAIN partners include Junta de Andalucia (Spain, Co-ordinator), VTT Research (Finland), Fraunhofer IML (Germany), Institute of Technology Tralee (Ireland) Irish Bioeconomy Foundation (Ireland), Coporacion Technologica de Andalucia (Spain), Sustainable Innovations Europe (Spain) and Industrial Biotechnology Innovation Centre (Scotland).
Author
James Gaffey
Source
ICT-BIOCHAIN, press release, 2018-07-26.
Supplier
Bio-based Industries (BBI) Joint Undertaking
Coporacion Technologica de Andalucia CTA
European Commission
Fraunhofer-Institut für Materialfluss und Logistik (IML)
Industrial Biotechnology Innovation Centre (IBioIC)
Institute of Technology Tralee (Ireland)
Irish Bioeconomy Foundation
Junta de Andalucia
Sustainable Innovations Europe
Technical Research Centre of Finland (VTT)
University of Strathclyde

Share