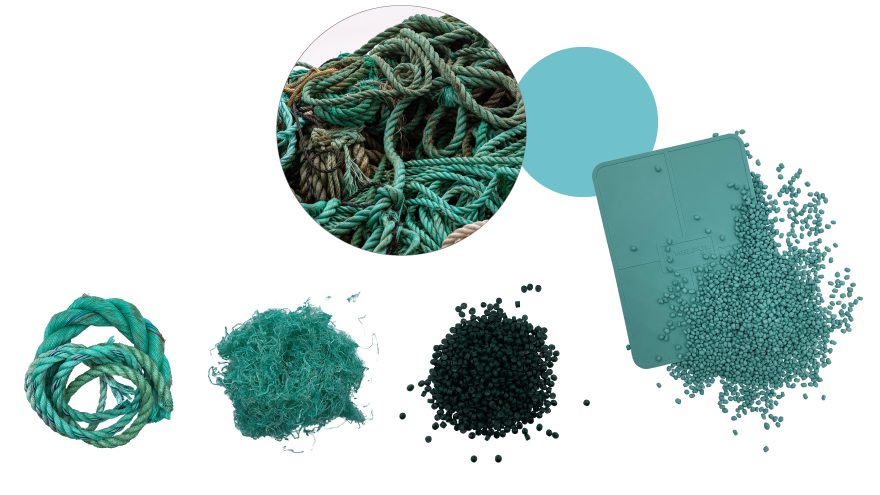 For the MWR raw materials, HEXPOL TPE is working with PLASTIX A/S, a Danish plastic recycling company specialising in sorting and recycling plastic fibre waste from the maritime industry. They convert used fishnets, trawls and ropes that would previously have ended up in the ocean or on landfill into high-grade and virgin-like raw materials.
The Dryflex Circular MWR TPEs are available in 40 Shore A to 50 Shore D hardnesses with 10 to 60 % recycled content. They are available in black, blue, green and mint colours.
"We are continually investigating new recyclate sources to support the shift away from virgin materials. Reutilising what would be waste and giving it a new life to help keep valuable materials in circulation," commented Jill Bradford, global marketing manager at HEXPOL TPE. "What drew us to working with Plastix were the controls and quality of their products and that their work is evidence-based. They have conducted Life Cycle Assessment to provide data on the carbon footprint of their products."

"Integrating post-consumer recycled material is essential in the world's transition to a circular economy and requires its usage in all applications possible. We are excited to be working with HEXPOL TPE to make this happen," states Hans Axel Kristensen, CEO and co-founder at Plastix.
About HEXPOL TPE
HEXPOL TPE is an international polymer compounding group specialising in Thermoplastic Elastomers (TPE) for key industries such as consumer, medical, packaging, automotive and construction. We were among the 1st companies to produce TPEs in Europe, and more than 50 years later, the possibilities continue to inspire us – yes, we're self-confessed TPE freaks! Our international teams work with customers around the world, developing new polymer combinations and creating customised materials that are safer, more durable, more sustainable. As part of the HEXPOL Group of companies, we share an extensive global footprint. Covering Europe, Asia-Pacific and North America, enabling us to support our customers worldwide.
About Plastix
Located in Lemvig, on the west coast of Denmark, Plastix is a clean-tech manufacturer of Green Plastics. We have developed a unique technology, enabling the mechanical recycling of post-use plastic fibres and rigid plastics primarily from the maritime industry. www.plastixglobal.com
Source
Hexpol TPE, press release, 2022-05-31.
Supplier
Share