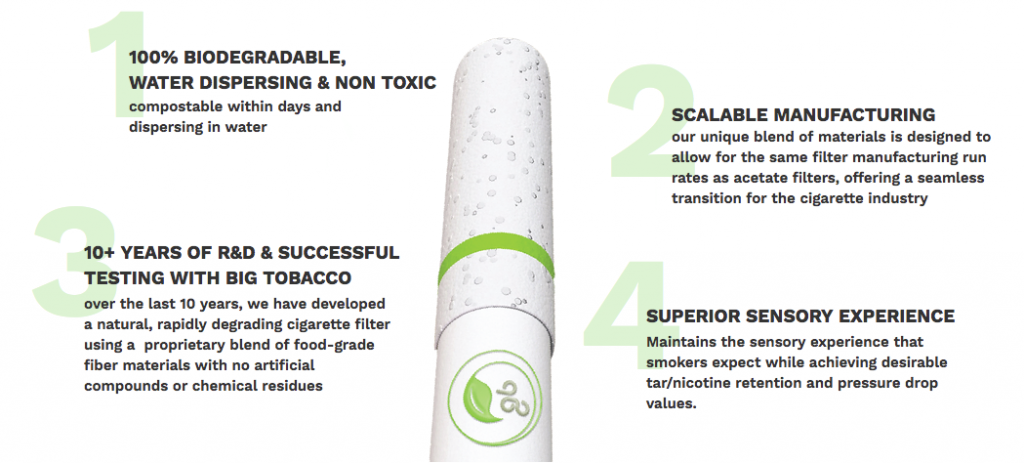 Greenbutts LLC., (the "Company" or "Greenbutts") a scientific leader in biodegradable filter technology, is pleased to announce that on July 11, 2022, the Canadian Intellectual Property Office granted Canadian Patent No. 2,949,484 for Greenbutts' patent application titled 'Biodegradable Cigarette Filter Tow and Method of Manufacture'.
This Canadian patent grant follows several other countries including U.K. patent number GB2525363 granted on October 19, 2016 and U.S. patent number 10,076,135 granted on September 18, 2018.
 "Greenbutts' mission started 12 years ago, at a time when the phrase 'single-use plastic' was not used as often as it is today. Our dedication through extensive R&D with our world-class scientific team is now being recognized on a global scale as governments, industry and consumers are all in alignment with a green, clean future", said Tadas Lisauskas, Chief Executive Officer. 

"We are pleased to announce our third patent issuance of our multi-dimensional biodegradable cigarette filter, which is not only compatible with traditional combustible smoking products but also with heat-not-burn products. This patent has strategic importance to our organization as it comes in full alignment with the Canadian government's decision to ban the manufacture and importation of harmful single-use plastics, a historic move for North America. Our technology is a viable and sustainable alternative to cellulose acetate filters while maintaining the sensory experience, delivering the high-performance filtration capability of a traditional filter. As we continue progressing with our commercialization roadmap, growing our intellectual property portfolio will be an essential factor towards the maturity of the Company, especially with government and industry recognizing Greenbutts as a green alternative to plastic filters." added Mr. Lisauskas.

"Geenbutts is taking another strong step towards its leadership in biodegradable filtration technology." said Luis Sanches, Chief Strategy Officer. 

"The granting of this new IP by the Canadian Intellectual Property Office is another demonstration that the Company is advancing in becoming the most strategic partner to catalyse the tobacco industry to, once and for all, migrate from single-use plastic to a planet friendly, consumer-aligned and government-supported solution." continued Mr. Sanches.
Greenbutts is currently seeking patent protection for other aspects of its technology.
About Greenbutts™️
Since 2010, Greenbutts has worked with R&D institutions, international tobacco companies, and industry experts to develop biodegradable filter technology – trademarked as a "Greenbutt". The Company has developed and patented a "zero-plastic" filter, made without any synthetic materials or plasticizers, 100% biodegradable and water dispersing which meets certain industry criteria. The proprietary Greenbutts filter is designed to reduce the significant environmental impact caused by plastic cigarette filter pollution. Over 4 trillion are discarded every year making single-use filters the most littered plastic item in the world. With over a decade of R&D and strong intellectual property, Greenbutts offers the $1 Trillion global tobacco industry a seamless transition to zero-plastic filters while meeting the new global single-use plastic (SUP) legislation initiatives.
Source
GreenButts, press release, 2022-07-14.
Supplier
Share
Renewable Carbon News – Daily Newsletter
Subscribe to our daily email newsletter – the world's leading newsletter on renewable materials and chemicals