In each issue of the Bioplastics Bulletin we present 5 facts about a member of European Bioplastics. In this issue, Kjell Ivar Bache, CEO BioBag International, shares some key information about his company with us.
 5 facts about Biobag International
BioBag International AS is a world-leading company within development, production, and marketing of certified compostable and biodegradable products.  We concentrate our efforts on municipalities / waste management, industrial, agricultural, HORECA and retail segments.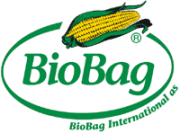 BioBag's compostable and biodegradable product range is one of the most comprehensive and extensive in the market. Our main objectives combine quality of existing products and the innovation of new products and concepts. The BioBag brand is one of the most recognized brand in our line of business.
For more than two decades, BioBag has been an expert partner to the waste management industry. Our compostable bags and sacks help combat the problem of sending organics to landfills. BioBag is committed to sustainability. We have taken clear steps towards protecting our environment while maintaining high quality and reliable products.
BioBag products contain renewable raw materials of agricultural origin such as non-genetically modified starch derived from crops. Our products are certified according to AIB Vincotte-OK Compost, DIN Certco, BPI, ASTM D6400, AS 4736.
We have designed a targeted approach of collaborating with synergistically aligned companies across the globe to reach thousands of customers worldwide. The main strategy behind our partner concept is "Think Globally – Act Locally".
Source
European Bioplastics Bulletin 01/2015, 2015-02.
Supplier
American Society for Testing and Materials (ASTM)
BioBag International AS
Biodegradable Products Institute (BPI)
DIN CERTCO Gesellschaft für Konformitätsbewertung
European Bioplastics e.V.
Vinçotte International

Share