National and regional Biostrategies provide a good starting point for the development of further activities based on the bioeconomy. They are spread widely across several locations that offer room for development.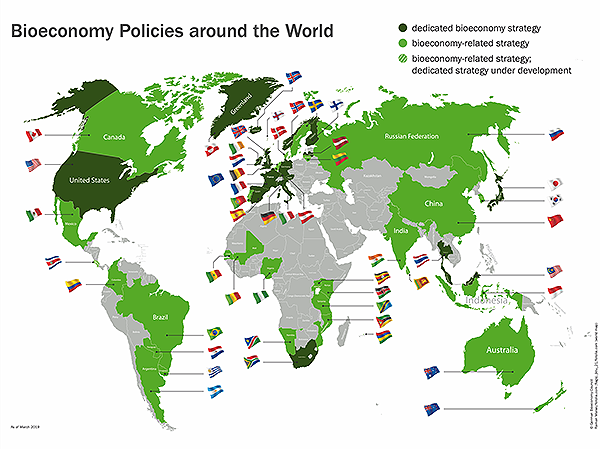 This poses the question of how we can best ride the bioeconomy wave and also mitigate climate change and the degradation of ecosystems?
Climate change, population growth and the degradation of ecosystems are currently the biggest challenges for mankind. We need to change from a fossil-based economy to a bio-based one where economic growth and human wellbeing are based on the sustainable use of natural resources and the circular use of all materials. People are becoming increasingly aware of these global challenges and demand for change is mounting. Global brand owners are looking for renewable alternatives and regulators too are placing greater emphasis on them. Bio-based solutions are not just for concrete products they also have important implications for human well-being. Both governments and industries need a clear biostrategy that serves as a platform for sustainable development and leads towards a bio- and circular based economy.
NC Partnering (NCP) has a wide network within the bioeconomy and circular economy arena and offers visionary thinking. In recent years NCP has developed biostrategies and also set in place real-life scenarios for establishing biorefineries.
When developing a BioStrategy, you need to take into account:
There is no one-size-fits-all Biostrategy, but rather the strategy must be fit for the resources and markets that are available
You need to an experienced team with the right connections to undertake the study
Economic factors need to be taken into account – and any solution needs to be economically sound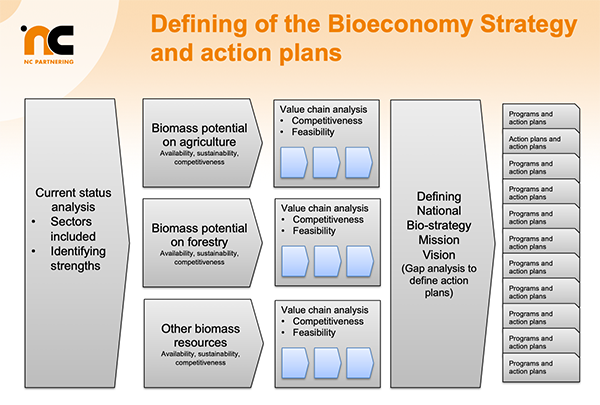 Defining of the bioeconomy strategy and action plans, figure
Conducting a biostrategy is always a joint effort between local stakeholders and global experts. Our process ensures that there is close collaboration between the parties and that concrete programs are created. This helps decisions makers with their implementation. NCP has a solid track record and a wide network to attract the engagement of industrial operators.
Typically, a strategy can be composed in less than one year. The main deliverables of the strategy work are action plans that decision makers can follow up in implementing the strategy.
Solving our global challenges through a bio and circular based economy is the most important mission of this generation, and it is imperative that we take action now before it is too late.
Source
NC Partnering Newsletter 9/2019, 2019-09.
Supplier
Bioökonomierat
NC Partnering Ltd

Share