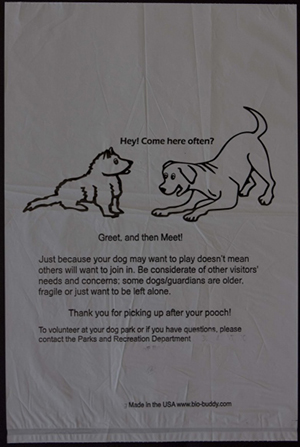 Cardia Bioplastics Limited and USA-based Custom Bioplastics LLC today announced the launch by Custom Bioplastics of the new "Bio-buddy™ dog waste bag" developed using Cardia's new and unique Biohybrid™ technology.
The new "Bio-buddy™ dog waste bag" is now being manufactured and marketed into the USA and online by Custom Bioplastics, an established USA manufacturer of blown and cast film plastic packaging located in the Pacific Northwest. The "Bio-buddy™ dog waste bag" is offered as a new lower carbon footprint alternative to conventional oil-based dog waste bags.
The number of dog waste bags used in the U.S.A runs into the hundreds of millions annually. Governments and pet owners are looking for a sustainable and renewable alternative to the conventional dog waste bag that is now available with the "Bio-buddy™ dog waste bag". The new "Bio-buddy dog waste bags" has been developed using both Cardia unique Biohybrid™ technology that requires less oil hence has a lower carbon footprint. Custom Bioplastics also use recycled plastics in the manufacturing process.
Custom Bioplastics Managing Director, Mr Dick Mathes, said "their new Biohybrid™ Bio-buddy dog waste bag is made with a combination of recycled resin and Cardia's Biohybrid™ technology. Bio-buddy's Biohybrid™ dog waste bags allow for plant starch to be combined with recycled resin. The plant starch lessens the total carbon footprint of the bag along with creating a bag that is soft and silky to the touch. This introduction is result of a desire of Custom Bioplastics to provide a dog waste bag that follows the newly issued FTC Green Guidelines and laws being enacted in California. Mr Mathes emphasised: Custom Bioplastic strategy on responsible packaging. "We are excited to work with Cardia Bioplastics. Our packaging products made from their Biohybrid resins will form an integral part of our responsible plastic bag and film offering," he said. Cardia's Chairman Mr Pat Volpe said: "The product has been developed with Custom Bioplastics to meet the growing demands for a sustainable pet waste bag with a lower carbon footprint, driven by consumer, brand owners, government and municipals."
"The Bio-buddy dog waste bag demonstrates the latest in sustainable technology and again confirms the diverse application of Cardia's Biohybrid™ proprietary technology. Cardia's main advantage besides the soft touch is that we deliver a product with a lower carbon footprint using renewable and sustainable resources – in line with the recent growing global trend. The "Bio-buddy dog waste bag" is a positive example of an application that now meets these requirements and is a great achievement by both companies." Mr Volpe also said. For Custom Bioplastics, this is an endorsement of the company's commitment to providing its customers with the option to purchase innovative plastic film products with lower carbon footprint.
The global shift towards green economies is gaining significant traction as individuals, companies and Governments are looking at ways to reduce their impact on the environment and looking at new technologies that can reduce their carbon footprint. Cardia is well-placed to capitalise on this trend supported with a patented portfolio comprising a number of renewable resin technologies.
Source
Cardia Bioplastics, press release, 2013-03-14.
Supplier
Cardia Bioplastics
Custom Bioplastics LLC

Share