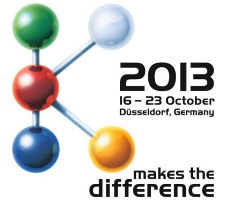 Corbion Purac bioplastics will be exhibiting at the K trade fair in Dusseldorf under the theme 'partnering for bioplastics growth'. To highlight the most recent developments in PLA (Poly Lactic Acid), Corbion Purac will be exhibiting a number of biobased applications resulting from numerous strategic partnerships. Corbion Purac has teamed up with esteemed partners in a number of industries, including packaging, automotive, home interiors and sporting goods, and will be showcasing the resulting applications in Hall 5, stand 5B22.
In addition to final PLA articles, Corbion Purac will also be displaying a distributor's corner, intended to provide a platform for interested parties to come into direct contact with their local PLA resin partner. To this end, Corbion Purac leverages its strategic partnerships to drive PLA innovation and stimulate increased bioplastic adoption throughout the value chain.
Understanding brandowner motivation
Corbion Purac is the global market leader in lactic acid, lactic acid derivatives and lactides. The breakthrough in high performance, biobased lactide monomers for PLA opens up a wealth of possibilities for bioplastic applications which have – until now – been limited to oil-based plastics. Combining high biocontent with a low carbon footprint, PLA is a great replacement for PS, PP and ABS. This offers brandowners a unique opportunity to be a sustainability frontrunner in their field, whether it be in terms of product packaging or primary product materials. Corbion Purac's understanding of key sustainability drivers provides a strong basis for brandowner collaborations.
Processing expertise for article converters
As demonstrated by the range of applications on show, PLA is an extremely adaptable material that can often be processed on existing equipment, with commercially acceptable cycle times. Corbion Purac welcomes converters and compounders who are interested in learning more about PLA processing. The technical team will be on hand at the fair to discuss and exchange PLA processing experience, from sheet extrusion and thermoforming, to injection molding and foaming.
Visit Corbion Purac in Hall 5, stand 5B22 to see our partner applications and learn more about how you can make the switch to biobased PLA plastic.
Source
Corbion Purac, press release, 2013-08-22.
Supplier
Share