Key take-aways:
Today, Climeworks completes the commercial operation phase of its first technology generation in Hinwil, Switzerland, as the company focuses on scaling its permanent carbon dioxide removal (CDR) service via direct air capture and storage (DAC+S) internationally.
Hinwil and the partners who made the project possible played a vital role in Climeworks' scale-up journey. 
Back in 2017, Climeworks made history with the launch of its operations in Hinwil: they represent the world's very first commercial DAC facility, which provided air-captured CO₂ to customers for utilization.
The insights gained in Hinwil put Climeworks on track to becoming today's most advanced DAC company. By following short innovation cycles and fast deployment steps, Climeworks aims at continuously bringing more high-quality CDR capacity to the market, while generating substantial field experience for next tech generations along the scale-up.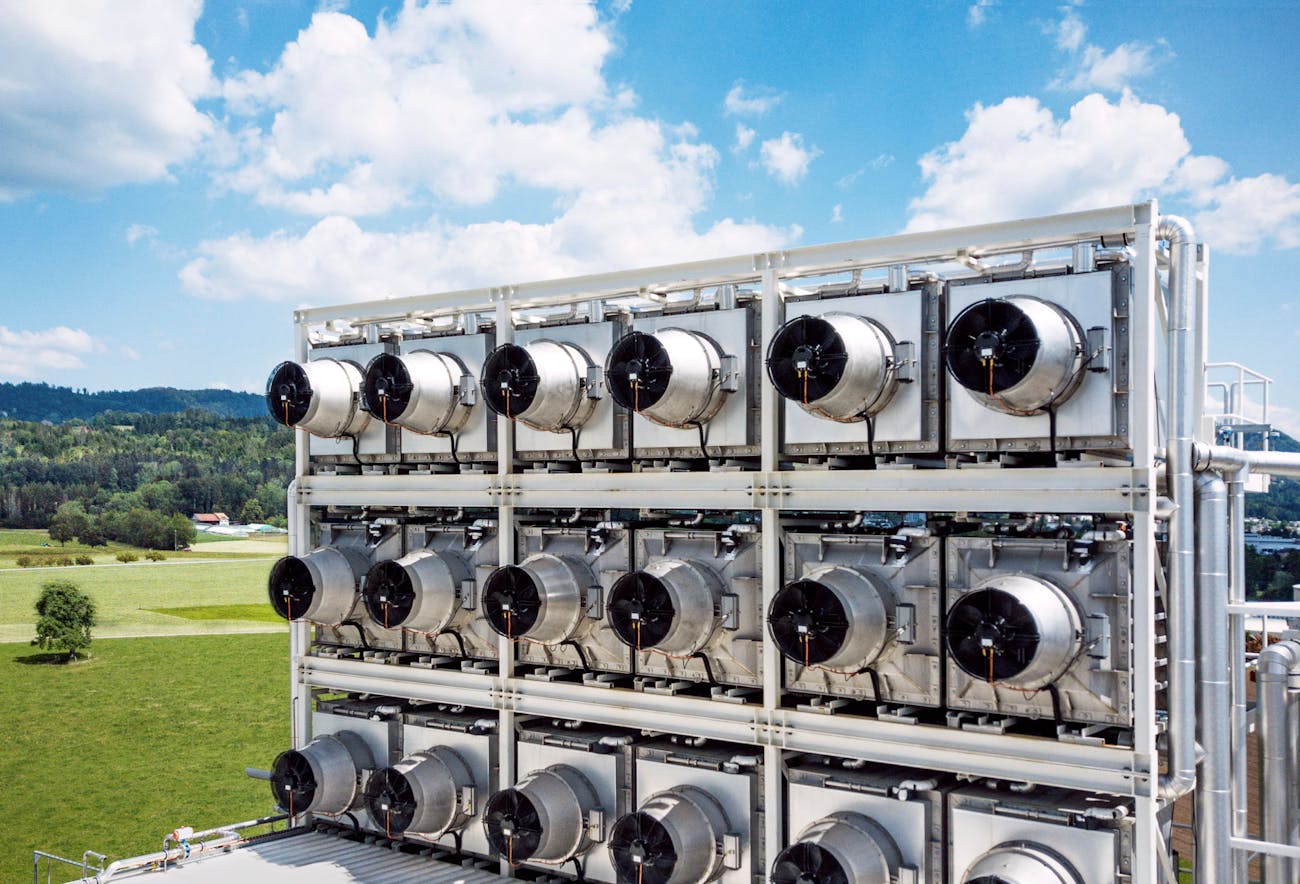 Today, Climeworks completes the commercial operation phase of its DAC facility in Hinwil, leading to the phase-out of its first generation technology. This allows the company to sharpen its focus and further move along the journey towards gigaton DAC+S capacity by 2050.
Climeworks now doubles down on its DAC+S scale-up journey to gigaton: Orca, the world's first DAC+S plant, was launched in September 2021, and the groundbreaking of Mammoth, Climeworks' newest and largest DAC+S plant, was announced in June 2022. Both plants are located in Iceland, and the permanent storage of CO₂ is provided by Climeworks' storage partner Carbfix. In addition, Climeworks undertakes DAC+S project development in Oman, Norway and the USA.
Background on Climeworks' DAC operations in Hinwil
In Hinwil, Climeworks' air-captured CO₂ was provided to customers for utilization — an existing market for CO₂, which enabled the first commercial operation of Climeworks' DAC technology. This was an important milestone both from a technology and a market perspective, putting Climeworks on track to becoming today's most advanced DAC company.
Climeworks started its operations in Hinwil in May 2017, initially launched as a demonstration project in cooperation with the partners Gebrüder Meier Gemüsekulturen AG, the Zweckverband Kehrichtverwertung Zürcher Oberland KEZO, and financial support of the Swiss Federal Office of Energy (SFOE). The Gebrüder Meier AG was the first pioneering customer of Climeworks' air-captured CO₂, using it for enhancing vegetable growth at a nearby greenhouse. KEZO provided both the location to build Climeworks' DAC facility and an energy source to power it, and the SFOE supported the project with a contribution towards non-amortizable costs. In 2019, Climeworks started to provide air-captured CO₂ to an additional customer: Coca-Cola HBC Switzerland Ltd., who used the CO₂ for the carbonation of its mineral water VALSER – the first time DAC was used for the beverage industry. The project was supported by Audi, the Federal Office for the Environment (FOEN) and the Klimafonds Stadtwerk Winterthur.
Technologically, Climeworks' operations in Hinwil moved the company to a new order of magnitude. From capturing grams in 2009 under lab conditions, to kilograms on demonstration-scale in 2011, and to tons with the first small-scale DAC plant in 2014 — Hinwil enabled a capture capacity of hundreds of tons of CO₂ per year.
By successfully designing, building and operating the DAC facilityin Hinwil, Climeworks built up operational excellence for the continuous production of CO₂ using DAC, which involved ramping up, operating and maintaining the facility as well as ensuring full production traceability. Since Climeworks delivered air-captured CO₂ to Coca-Cola HBC Switzerland Ltd., it worked on maximizing the purity of its CO₂ to be compliant with the highest food and beverage standards. This led to Climeworks' certification under the FSSC 22000 food safety and ISO 9001-2015 quality standards in 2019 and subsequent years with the latest re-certification successfully completed in June 2022.
Commercially, Climeworks demonstrated for the first time that DAC creates value and that a market demand exists among established companies such as Coca-Cola HBC Switzerland Ltd. Operating its DAC technology to supply air-captured CO₂ to commercial customers under the highest standards enabled Climeworks to develop from a start-up into an operational company very early on.
A guide to monitoring, reporting and verification (MRV) and certification in the CDR industry
What is MRV and how does it relate to certification?
Learn more about our DNV validated certification methodology that we developed with Carbfix – Read more
Source
Climeworks, press release, 2022-10-20.
Supplier
Climeworks AG
Gebrüder Meier AG

Share