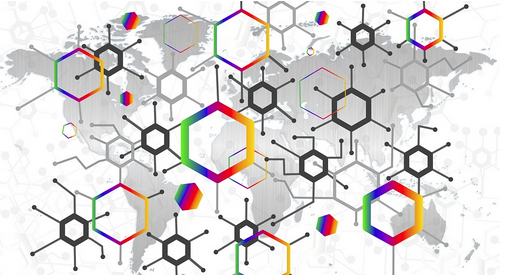 The production of biobased chemicals is widely seen as a novel and emerging endeavour. There is a great deal of discussion and focus on the development of disruptive technologies such as the use of industrial biotechnology supported and enhanced by synthetic biology. Synonymous with novel technologies are the disruptive innovators, typically small or medium enterprises (SMEs) looking to meet the demands of new or market segments overlooked by incumbents.
In the biobased chemicals industry there is no shortage of innovative companies. Established biobased product producers such as Natureworks and Novamont are driving new application development. New processes are being developed by numerous innovators including Avantium, Global Bioenergies and Genomatica. Additionally the speed of biotechnology innovation is increasing through the enabling capabilities of companies like Twist Bioscience and Ginko Bioworks.
However these are not the widely recognised behemoths of the chemical industry. So how are the giants of the chemical industry reacting to the perceived demand for green or sustainable chemicals and specifically the increasing market demand for biobased chemicals?
A review of the 2020 ICIS Chemical Business list of the Top 100 chemical companies[1] showed that over 70% have some research or business interest in the biobased chemicals area. However, an interest does not necessarily equate to activity.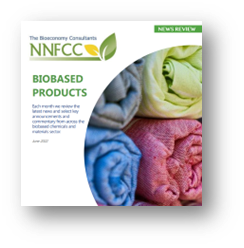 Each month NNFCC captures, collates, and publishes a summary of company announcements covering biobased products. To review biobased activity by these top 100 companies we looked back at our monthly NNFCC news reviews carrying announcements on biobased products during 2020 and 2021. These views capture topical industry news and although not comprehensive, we feel they are a fair reflection of activity.
This simple analysis indicates that companies higher up the Top 100 list are more likely to have made an announcement about a biobased development (Figure 1).
In 2020, 21 of the top 100 chemical companies had entries in the news reviews and this increased to 31 in 2021. This relatively low (although increasing) reflection of activity across the top 100 companies is in contrast with the level of activity seen in the Top 10 companies. Of these companies, 7 appeared in the 2020 news reviews, increasing to 8 in 2021. Of the Top 50 companies, 23 featured in the 2021 news reviews up from 17 in 2020.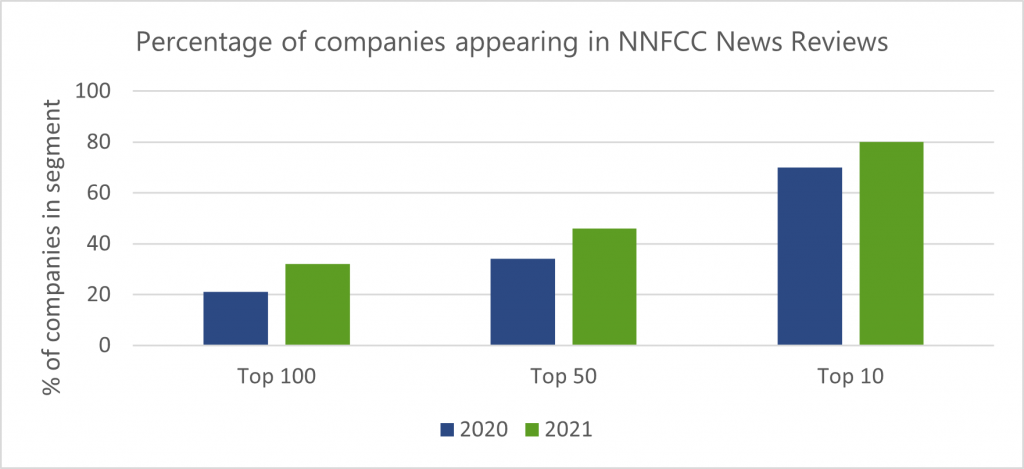 Of the companies to showing high levels of activity in 2021, 10 companies featured three or more times in the news reviews (Figure 2).


These companies represent a broad range of industrial and market activity but one theme that ran through many of the announcements was the use of mass balance approaches to attribute renewable content to products. This is to be expected from large companies with established product lines, mature supply chains and considerable capital invested in production facilities. Announced renewable materials provided through mass balance programmes included polyolefins, polyvinylidene fluoride, elastomers, and polycarbonates.
Other areas of development included an expansion in biobased polyethylene production, new investments in biosurfactants, the roll out biobased ethylene-vinyl acetate and the use of biobased chemicals in textile applications. Some selected announcements are shown below.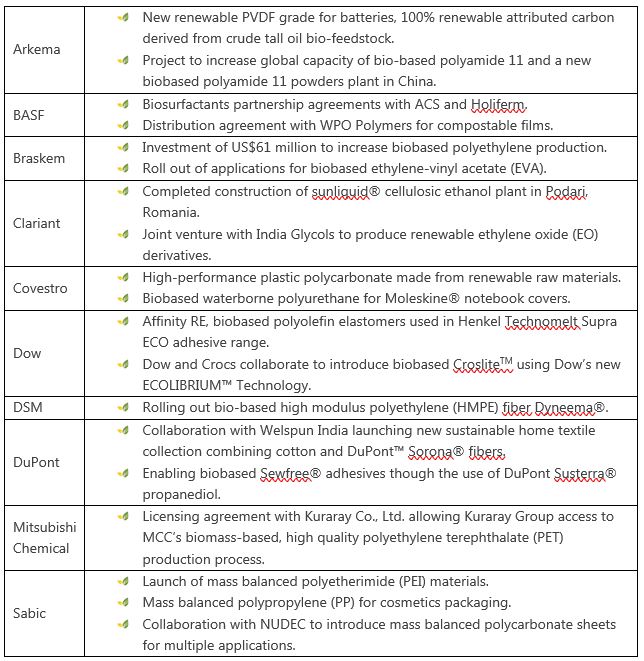 Whether in SMEs or large multinational companies there is evident interest and increasing activity in the development and supply of biobased chemicals and materials. Both dedicated production and mass balanced approaches are being pursued to produce drop-in molecules as well as new to market molecules such as novel biosurfactants.
How the industry continues to evolve will depend to large extent on the sustainable feedstock supply, whether for dedicated production or in mass balanced approaches. Given the considerable scale of the chemical industry and the demand potential for renewable feedstocks via mass balanced applications it will be interesting to see what volume of production this approach can achieve.
The regular monitoring of biobased chemical industry announcements is part of range of activities undertaken by NNFCC to maintain the knowledge base that underpins our client work in market analysis, sustainability assessment and, business planning and opportuning appraisal.


[1] ICIS Chemical Business, 3-9 September 2021, accessed 06 July 2022, https://s3.eu-west-1.amazonaws.com/icis.ada.website.live/wp-content/uploads/2021/09/13164728/ICB_030921_Top-100-Chemical-Companies-pt-1-1.pdf.
Author
Dr Adrian Higson
Source
NNFCC, press release, 2022-09-26.
Supplier
Arkema
Avantium Technologies B.V.
BASF
Braskem
Clariant International AG
Covestro AG
DSM
DuPont
Geno (formerly Genomatica, Inc.)
Gingko Bioworks
Global Bioenergies
Mitsubishi Chemical
NatureWorks LLC
NNFCC
Novamont S.p.A.
SABIC Ventures US Holdings LLC

Share
Renewable Carbon News – Daily Newsletter
Subscribe to our daily email newsletter – the world's leading newsletter on renewable materials and chemicals