Carbon fibre is strong and light and has many applications. Today, the demand for carbon fibre is mainly limited by the high cost. As a result, the material is currently primarily used in products where performance is more important than price. By introducing a cost-effective lignin-based carbon fibre, the market could increase considerably. By launching a joint road map, the two research institutes Innventia and Swerea SICOMP will show how this will be possible in just ten years. The launch took place in conjunction with the SICOMP Conference 2014 in Piteå on 2-3 June.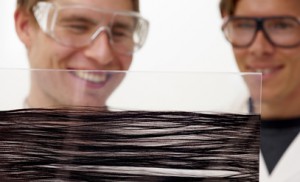 The target is to by 2025 have developed and created a demand for a new high-value Swedish product from wood raw materials: lignin-based carbon fibre, for use primarily in advanced composite materials. In addition, the Swedish R&D, research infrastructure and production expertise throughout the value chain, from forest-based raw materials to high quality carbon fibre for use in advanced construction materials, will be developed in order to contribute towards establishing industrial carbon fibre production in Sweden.
"Innventia and Swerea SICOMP have a close strategic cooperation, and, together with representatives from industry, we are planning a joint demonstration facility for the manufacture of lignin-based carbon fibre composites with an annual capacity of approximately 50 tonnes," says Peter Axegård, Innventia.
"By working together to develop expertise and experimental resources in a smart way, we will form a unique, unbroken value chain and a strong R&D environment from the forest to lignin-based carbon fibre products, says Hans Hansson, Swerea SICOMP.
Contacts
Peter Axegård
Director Business Area Biorefining / Innventia
Tel. +46 768 767 221
E-Mail: peter.axegard@innventia.com
Per Tomani
Team Leader Lignin & Carbon Fibres / Innventia
Tel. +46 768 767 281
E-Mail: per.tomani@innventia.com
Hans Hansson
Managing Director / Swerea SICOMP
Tel. +46 70 5693581
E-Mail: hans.hansson@swerea.se
Source
Innventia and Swerea SICOMP, common press release, 2014-06-04.
Supplier
Share