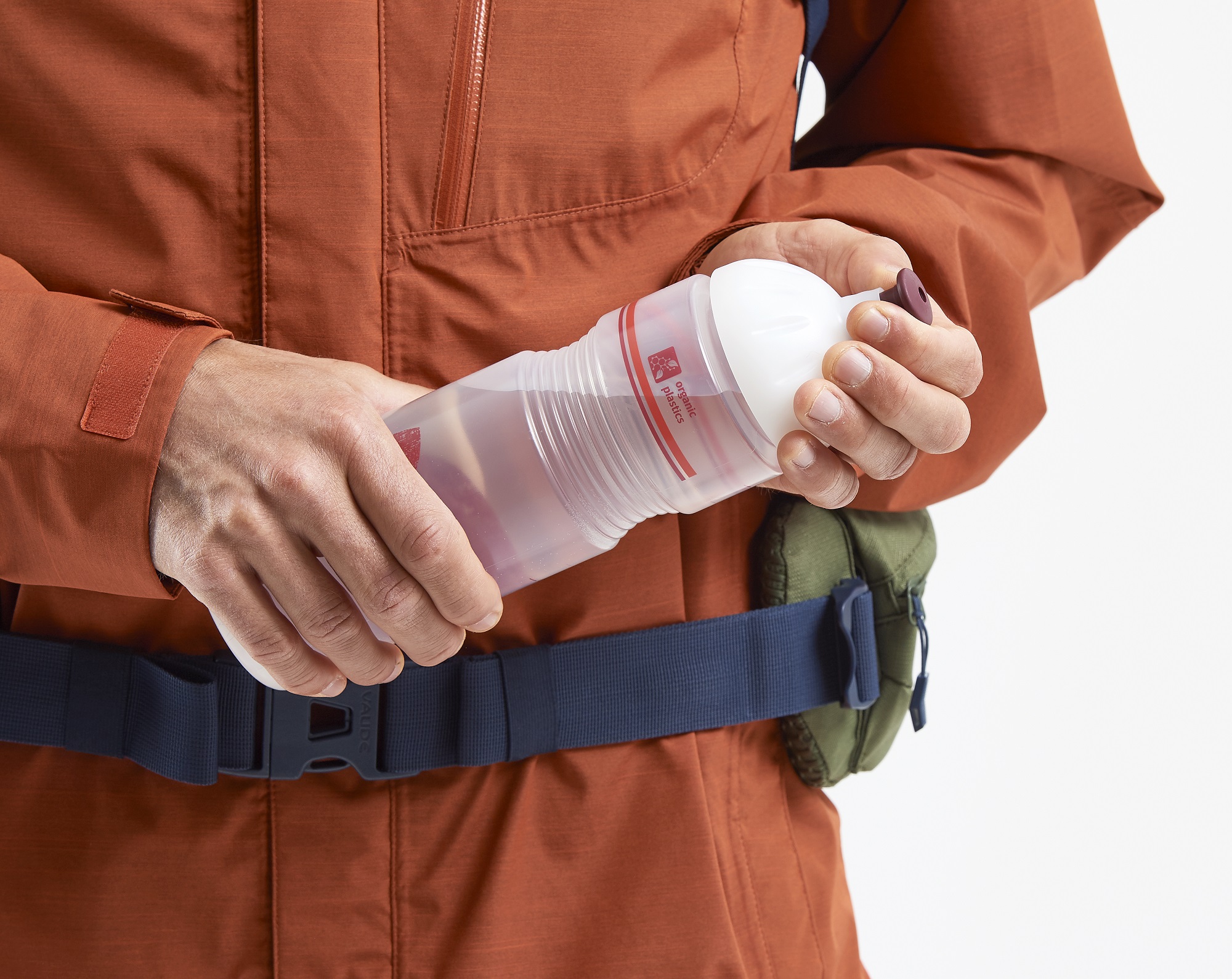 International compounding group HEXPOL TPE developed a customised biobased Thermoplastic Elastomer from the Dryflex Green series for VAUDE. The material is used on the bicycle bottle mouthpiece by the outdoor equipment manufacturer based in Baden-Württemberg, Germany.
With the 'Bike Bottle Organic', VAUDE has produced their first bicycle bottle developed entirely from biobased plastics. The manufacturer of high-quality outdoor clothing and equipment has long taken its responsibility for people and planet seriously and is pleased to add the bottle to their 'Green Shape' portfolio of functional, eco-friendly products made from sustainable materials.
"For VAUDE, the idea behind the bicycle bottle was to shift reliance from fossil to renewable resources. We want to support a biobased circular economy and improve the ecological footprint of an article that all frequent bikers need to have. Thanks to Dryflex Green TPEs, VAUDE was able to manufacture a technical component, in this case a soft valve, from biobased material," commented Clément Affholder, Manager Innovation – Materials and Plastic Engineering at VAUDE.
The main challenge for HEXPOL TPE was to develop a suitable compound that meets the mechanical properties and processability requirements. "The Dryflex Green TPE compound, developed individually for VAUDE, is based on > 34% biobased materials, it can be processed using conventional production methods, as a drop-in solution without the need for tool modification. The raw materials used meet requirements for food contact according to EU 10/2011 and FDA. The TPE can be coloured, it adheres to PP and PE and is fully recyclable, as well as being dimensionally stable and UV-resistant," adds Kathrin Heilmann, sales at HEXPOL TPE responsible for Dryflex Green products on the German market.
These material properties in combination with the quick and easy cooperation with HEXPOL TPE, were ultimately the decisive factors for VAUDE. "It is an important step forward that helps minimise the environmental impact of consumer goods and at the same time shows that renewable resources can be used in high-performance products", Clément Affholder concluded.
Source
HEXPOL TPE, press release, 2020-02-21.
Supplier
Share