Together with the BioPro Baden-Württemberg GmbH and the project sponsor Jülich, the FNR the 2017 Hanover Trade fair presents the "showcase of bio-economy". In the Hall 2 – research & technology for visitors to 200 sqm information on six different subject areas of the bio-economy: automotive, building materials, organic materials, digitization, adhesives and composite materials. Three to four innovative research projects of the three partners will be presented to each of these topics in turn.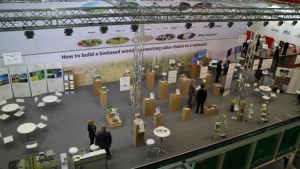 By FNR, the adhesives are high in the course this year. The first results from three current research collaborations and approaches are presented. Under the title "Thermoaktivierbare bio adhesives", the researchers are looking for a bio-based alternative to polyurethane dispersion for adhesives. The compound DextriPlast is about the development of biogenic enamel bonding systems for medical applications. And with functional adhesive coatings for wood-based materials, which can be used in turn for example as a heated wall, ceiling or floor elements, dealing with the partners in the third featured adhesive joint project.
The FNR-construction projects will be presented by two large building models on hand: a bio-based façade element with a bio-based resin system and a natural fiber reinforcement and a sandwich element from crop residues with integrated sound and heat protection function.
In addition, the FNR shows approaches to the production of outdoor power lines from laminated veneer lumber, the latest data from the research group "Natural rubber from Russian Dandelion" for example for the production of car tyres and the diverse areas of application for organic materials in everyday life.
See the joint stand "Showcase bio-economy" at the Hannover trade fair in Hall 2, booth number C 50.
Source
FNR, press release, 2017-04-21.
Supplier
BIOPRO Baden-Württemberg GmbH
Fachagentur Nachwachsende Rohstoffe (FNR) e.V.
Forschungszentrum Jülich
Hannover Messe

Share