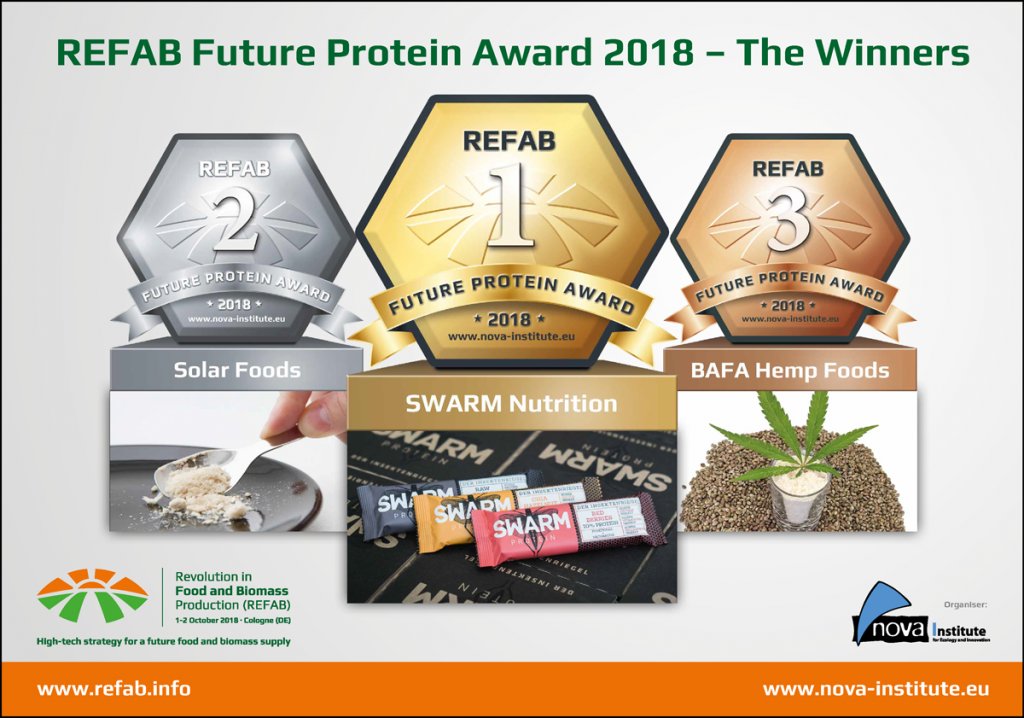 During the new conference "Revolution in Food and Biomass Production (REFAB)", nova-Institute presented the first Future Protein Award on 2 October 2018 in Cologne. 200 participants from 23 countries joined the conference and looked into the future of food and biomass production. 53 speakers presented their innovations in nine different topics.
Deutsche Fassung: https://renewable-carbon.eu/news/alternative-proteine-in-aller-munde/
It was an experiment from nova-Institute to bring together all innovation fields of the future food and biomass production in one place. This vision came true and happened on 1 – 2 October in Maritim Hotel, Cologne. The new concept of the REFAB conference was a success: Speakers and participants accepted the new concept very positively: "I was extremely impressed by the diversity of topics covered at the conference. I don't know that I've ever seen such a wide-ranging program!" said the conference speaker Matt Ball from The Good Food Institute, USA. In particular, the participants found the "out of the box" interactions are extremely enriching: Plant cultivation on Mars, precision farming, robots, drones and artificial intelligence (AI), alternative protein sources, biostimulants, aquaculture and mariculture, vertical farming, organic and smallholders farming, new food additives and natural flavours from biorefineries were just some of the topics discussed.
At REFAB, the well-known experts were able to gain an overview of the rapidly advancing high-tech strategies, established entirely new networks or expanded the existing ones. In addition to start-ups, scientists and associations, numerous global corporations were represented: BASF, Bayer, Borregaard, Cargill, CLAAS, DSM, ESA, Evonik, Microsoft, Osram, Lenzing and TATA.
A few years ago, who would have thought that Microsoft would invest 50 million dollars in Artificial Intelligence for the observation and measurement of the earth and that agriculture would play a central role in this, as presented at the conference? With a common goal of fighting the world hunger and making agriculture more sustainable, global companies such as Microsoft, TATA, BASF, Bayer and CLAAS work closely together in the fields of precision farming, digitization and AI. Indian scientists will soon see agricultural robots that help small farmers in India to carry out heavy work under extreme conditions.
Evonik presented animal- and environment-friendly solutions for chicken houses based on sensors and probiotics. Finally, there is also the knowledge of how to use humus management and biostimulants to revive degraded agricultural soils and thereby strengthen plant immune system against attacks. The new technologies make it possible to overcome the conflict between industrial agriculture and the destruction of farm land. Examples from Europe, Japan and China showed how "Urban and Vertical Farming" will soon supply metropolitan regions with lettuce and vegetables – and even with more micronutrients than from the field.
Future Protein Award
Michael Carus, Managing Director of nova-Institut GmbH and organiser of the conference, said about the topic of alternative proteins: "It was very exciting to see how the food and biotech industries are breaking new ground to produce innovative protein products. I am convinced that the future of the global food market depends on these alternative protein sources, considering the rising global warming and increased demand for food. Not only large companies are part of these food innovations, but also many young start-ups with their new ideas. The future of food is changing and we are looking forward to it. Above all, we are pleased to present the winners of the first "Future Protein Award" presented by the nova-Institute."
Six new protein products from Finland, France, Germany and Great Britain/South Africa were nominated for the "Future Protein Award". During the REFAB exhibition and presentations, the candidates presented their developments. Three innovations particularly convinced the trade audience and received the most votes.
1) SWARM – The Insect Bar (DE)
SWARM Nutrition GmbH, a start-up company based in Cologne, Germany, develops sports nutrition with high-quality and sustainable protein from insects. The "SWARM Insect Bar" ideally suits the needs of athletes who demand functional sports nutrition and at the same time pursue a sustainable lifestyle. It is made of natural ingredients and high value insect protein and contains loads of micronutrients.
2) Solar Foods – Proteins from air and renewable electricity (FI)
Solar Foods OY from Finland produces a completely new type of nutrient-rich protein. Special bacteria can produce proteins based on air and electricity from renewable energy sources. This protein redefines the basis of food and feed production as it can be produced independently of agricultural land, weather and climate. The company's goal is to start the commercial production of this protein in 2021.
3) BAFA Hemp Foods – Concentrated protein powder from hemp (DE)
The Hemp Protein Powder of the BAFA Hemp Foods GmbH, a hemp pioneer from Karlsruhe, contains over 70 % protein, which contains a complete amino acid spectrum. The product has a mild nutty taste and a white color. This product is 100% natural and also available in a certified organic version. Hemp protein powder is an ideal protein supplement for athletic vegetarians and vegans. It can be used in many delicious recipes.
The nova-Institute would like to thank all sponsors and partners for their extensive support. Without our sponsors, conference partners, the advisory board and all other partners, REFAB would not have been possible. Special thanks go to the Fachagentur Nachwachsende Rohstoffe e.V. (FNR), which supported REFAB as a premium partner, and Dr. Bronner's as well as BIOCOM AG, which took part in the conference as bronze sponsors.
Soon all presentations of the REFAB conference will be available online: www.bio-based.eu/proceedings/
Download visuals at: http://refab.info/press/?id=59
Responsible for the content under German press law (V.i.S.d.P.):
Dipl.-Phys. Michael Carus (Managing Director)
nova-Institut GmbH
Chemiepark Knapsack
Industriestraße 300
DE-50354 Hürth (Germany)
Internet: www.nova-institute.eu – all services and studies at www.bio-based.eu
Email: contact@nova-institut.de
Phone: +49 (0) 22 33-48 14 40
About the nova-Institute
nova-Institute is a private and independent research institute, founded in 1994; nova offers research and consultancy with a focus on bio-based and CO2-based economy in the fields of food and feedstock, techno-economic evaluation, markets, sustainability, dissemination, B2B communication and policy. Every year, nova organises several large conferences on these topics; nova-Institute has 30 employees and an annual turnover of more than 2.5 million €.
Get the latest news from nova-Institute, subscribe at www.bio-based.eu/email
Source
nova-Institute, press release, 2018-10-09.
Supplier
BAFA Badische Naturfaseraufbereitung GmbH
BIOCOM Interrelations GmbH
Dr. Bronner's Magic Soaps
Evonik Industries AG
Fachagentur Nachwachsende Rohstoffe e.V. (FNR)
nova-Institut GmbH
Solar Foods Ltd.
SWARM Protein
The Good Food Institute

Share
Renewable Carbon News – Daily Newsletter
Subscribe to our daily email newsletter – the world's leading newsletter on renewable materials and chemicals