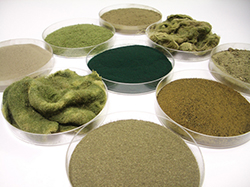 A variety of raw aquatic feedstocks, such as spirulina, periphyton, duckweed and diatoms
Algix, LLC is a bioplastics company developing novel thermoplastic formulations and resins using feedstocks from renewable sources. The Algix Bio-resins derive up to 70% of their feedstock from aquatic biomass obtained from nitrogen and phosphorus-rich wastewater, blended with various concentrations of PE, PP, EVA, PLA, TPS, PHA etc.* for use in a wide range of end-use applications.
Algix has partnered with the University of Georgia and Kimberly-Clark to commercialize the cultivation of aquatic biomass, such as algae, as a feedstock for bioplastic conversion. The company is targeting agricultural and industrial operations, such as livestock farms and wastewater treatment facilities, as a source of low-cost nutrients for high productivity aquatic biomass cultivation. Additionally, Algix is developing customized bioplastic formulations for industrial, commercial and retail applications.
… Full Text: www.algaeindustrymagazine.com/algix-developing-algal-based-plastics/
Tags: waste, aquatic macrophytes, protein-rich biomass, biofuel, nutrient-rich waste water, strains, microalgae, extrusion compounding, injection molding, cast films, spun fibers, thermoforming applications
Source
Algae Industry Magazine, 2012-07-09.
Supplier
Algix LLC
Kimberly-Clark Corporation
University of Georgia

Share