Advanced Recycling Conference 2023, 28-29 November 2023, Cologne, Germany, and online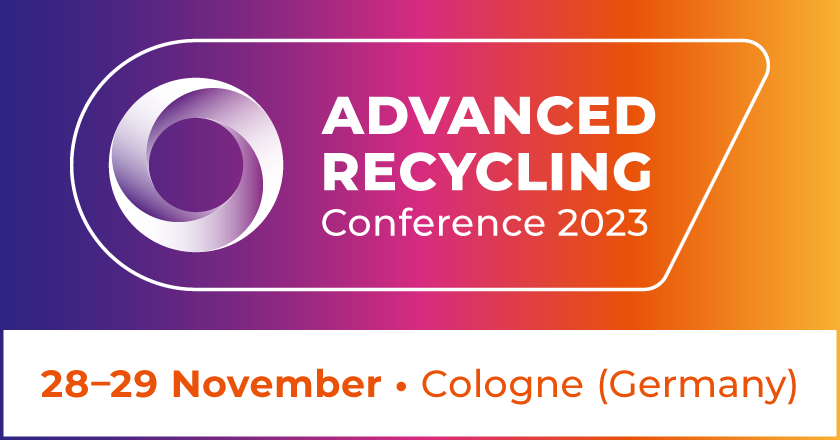 It becomes evidently clear that the chemical and plastics industries need to keep carbon in the loop. Experts predict the global demand for embedded carbon to increase significantly to 1.15 Gt of carbon per year by 2050. Currently approximate 88 % of embedded carbon come from fossil feedstocks, including oil, natural gas and coal. In the future, this amount must be met exclusively by the three available renewable carbon sources: biomass, the direct use of CO2 and recycling. While biomass solutions frequently face the food vs. feed debate, Carbon Capture and Utilization (CCU) efforts are not receiving the required policy support to develop at a rapid pace. Here, advanced recycling solution can contribute significantly to keep and reuse embedded carbon in the technosphere.
The Advanced Recycling Conference 2023 (www.advanced-recycling.eu) will present the broad range of advanced recycling solutions from extrusion, dissolution, solvolysis, enzymolysis, pyrolysis, thermal depolymerisation, gasification, to incineration with Carbon Capture and Utilisation (CCU) but also address related topics like policy and mass balance approach.
Companies and research institutes are invited to present their latest contributions, technologies and results to an international expert audience.
Submissions are open till 30 August 2023 and can be submitted here.
Building on the successes of ARC 2022 by connecting key players and unique technologies
With 230 participants from 21 countries, the Advanced Recycling Conference 2022 was a great success and gave attendees the opportunity to discuss future opportunities and celebrate technology success stories. The variety of ARC presentations and speakers showed that many of the ambitious recycling goals can only be achieved jointly. By merging expertise, experience, financial forces, value chains, and technologies, many companies proved that success is often only a handshake away and emphasized the importance of collaboration, partnerships, and fusions. One of the event's focus topics was the polymer PET, which is part of numerous waste streams with vastly different recycling requirements. In consequence, PET waste streams are as diverse as the recycling technologies tackling this issue. Yet, ARC proved that new and unique solutions are already available to the market, e.g., various twin-screw extruder setups. Those extruders can function as reactors for chemical recycling processes, as well as pre- and post-treatment elements and realise high throughputs of up to 20 t/h. They depolymerise PET into its building units that then can be reintroduced into the production cycle, chemical PET recycling techniques like the intensely discussed solvolysis, utilise solvents or other chemicals to initiate alcoholysis or hydrolysis. Thus, advanced recycling technologies secure the renewable carbon supply for the chemical and materials industry.
Join the event – Registration, exhibition and sponsoring
The Advanced Recycling Conference welcomes key players and stakeholders along the entire value chain of recycling materials and offers plenty of opportunity to connect and network.
To register for the event, please visit https://advanced-recycling.eu/registration/
ARC 2023 is accompanied by a trade exhibition that guarantees enterprises top visibility among a target audience. To secure one of the top spots in out exhibition space, please visit https://advanced-recycling.eu/exhibition-booking/.
To support the event as a sponsor and discover the different options of our sponsoring and service packages, please visit https://advanced-recycling.eu/sponsoring/.
About nova-Institute
nova-Institute is a private and independent research institute, founded in 1994; nova offers research and consultancy with a focus on the transition of the chemical and material industry to renewable carbon: How to substitute fossil carbon with biomass, direct CO2 utilisation and recycling. We offer our unique understanding to support the transition of your business into a climate neutral future. nova-Institute has more than 40 employees.
Source
nova-Institut, press release, 2023-07-20.
Supplier
Share
Renewable Carbon News – Daily Newsletter
Subscribe to our daily email newsletter – the world's leading newsletter on renewable materials and chemicals