The EU project Zelcor officially ended on 28 February 2021 after four and a half years intense research & activities by 17 partners, demonstrating the feasibility of transforming lignocellulose biorefinery recalcitrant side streams to high added-value bio-based products.
Among the most promising value chains explored is the cascade production from soda lignins of multi-functional insect repellent extracts, aqueous colloidal lignin anti-viral dispersions, substituents to oil-based aromatics, and phenolic antioxidant with 4-times higher activity than lignins. In parallel, the successful conversion of lignocellulose bioethanol residues into nanomaterials offers a realistic zero-waste scenario for the development of 2G biorefineries. Besides integrated approaches for side streams valorisation, one innovation pillar in the Zelcor project was the exploration of new biological conversion tools: 16 new enzymes of interest for industry were identified, including a lignin-solubilizing enzyme produced and immobilized by a private company, and an insect bioreactor was designed for the concomitant production of chitosan and protein feed.
The consortium can look back on overall 20 scientific publications and many activities that brought the output of their research to a wide audience. The two "Summer Schools" organised in 2018 and 2021 remains highlights of the project.
Taken together, no less than 10 PhD students and post-docs participated to the project.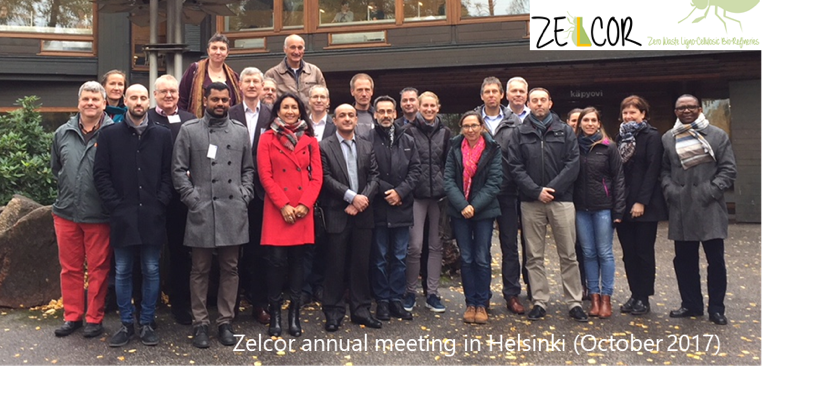 In the final meeting in February the project coordinator Stéphanie Baumberger (Professor at AgroParisTech) is looking forward satisfied and confident: "Zelcor was a great collective human adventure. Of course, we can be proud of the scientific and technical advances made thanks to our multi-competence consortium, but a major result remains the settlement of sustainable collaborations. Various new projects involving partners of Zelcor consortium have already started (e.g. ERA CoBioTech Milimo, SPIRE Impress ANR Funclipro, Joint Erasmus + Master Bioceb) and no doubt that future proposals will arise soon."
All information and publications are available on http://zelcor.eu/
About the Project
The Zelcor Project received funding from the Bio Based Industries Joint Undertaking under the European Union's Horizon 2020 research and innovation programme under the grant agreement No 720303.
Source
Zelcor, press release, 2021-03.
Supplier
AgroParisTech
Bio-based Industries (BBI) Joint Undertaking
Horizon 2020
INRAE

Share
Renewable Carbon News – Daily Newsletter
Subscribe to our daily email newsletter – the world's leading newsletter on renewable materials and chemicals