nova-Institute has decided to defy the circumstances and has found a new format for its events:
The 1st European Summit on CO2-based Aviation Fuels" (in cooperation with IASA) and the "8th Conference on Carbon Dioxide as Feedstock for Fuels, Chemistry and Polymers" will take place as one 3 day online conference via ZOOM. 50 speakers will present the latest technologies and advances of the industry and policy.
We expect at least 200 to 300 participants to be involved as interactively as possible, the feedback to our online event is outstanding.
The election of the innovation award "Best CO2 Utilisation 2020″, co-organized by CO2 Value Europe and sponsored by Covestro, will take place online, too.
The programme is available at www.co2-chemistry.eu/programme
Would you still like to join and hear the very latest technical and political developments from the innovation area CCU or Power to X and discuss with leading experts? You can register at any time and receive your participation link immediately after payment.
Join at www.co2-chemistry.eu/registration. Access to the online conference is available for 450 € and valid for all 3 online conference days.
We thank our sponsors ENVIRO Ambient and Total, premium partners EnergieAgentur.NRW and IASA, and all partners involved for their support and contribution in these difficult times. Our special thanks goes to Minister Prof. Dr. Pinkwart for his patronage.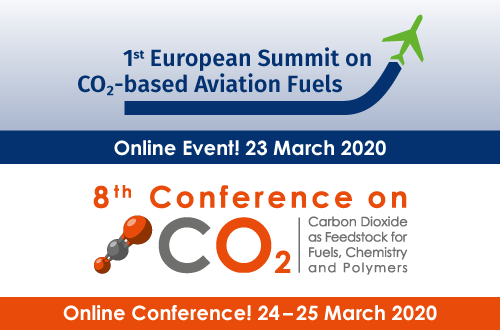 Source
nova-Institut GmbH, 2020-03-20.
Supplier
CO2Value Europe
Covestro AG
EnergieAgentur.NRW
Enviro Ambient
IASA International Association for Sustainable Aviation
nova-Institut GmbH
Total

Share
Renewable Carbon News – Daily Newsletter
Subscribe to our daily email newsletter – the world's leading newsletter on renewable materials and chemicals