World cotton production is expected to decrease by 5% to 24.9 million tons in 2008/09, due to declines in both area and yield. This projected decrease is driven by a fall of more than one million tons in U.S. production, to 3.1 million tons.
World cotton mill use is expected to decline by 1% in 2008/09 to 26.4 million tons, due to slower global economic growth and higher prices of cotton relative to polyester.
World imports are expected to increase by 6% to 8.8 million tons in 2008/09, driven by larger imports by China (Mainland). Exports from the United States, India and Brazil are expected to increase.
World cotton stocks are forecast to decrease by 12% to 10.7 million tons in 2008/09. The largest decline in stocks is expected to occur in the United States, where considerable supplies that accumulated during the previous two seasons will fuel exports.
The Secretariat forecasts an increase in the season-average Cotlook A Index from 73 cents per pound in 2007/08 to 83 cents per pound in 2008/09 (the 95% confidence interval is between 69 and 97 cents per pound).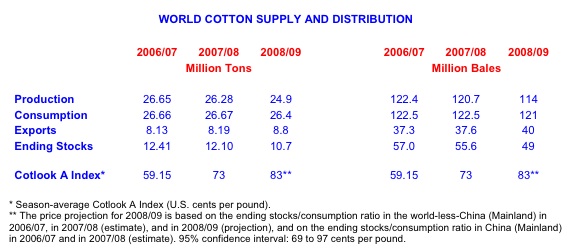 Source
International Cotton Advisory Committee, press release, 2008-08-01.
Supplier
International Cotton Advisory Committee

Share