The global Wood Plastic Composite market size was valued at USD 4.06 billion in 2015. The expanding application scope in decking and fencing applications is expected to drive demand for the product in the construction industry. Growing demand for wood plastic composite as a low cost and environmentally friendly substitute to plastic and steel components in construction applications is expected to drive market growth. The improved properties offered by the wood plastic composites, such as better recyclability, thermal stability, and stiffness, are expected to open new avenues for the industry growth over the next eight years. Moreover, its rising use in street constructions and landscaping owing to the noise barrier properties offered by the product is likely to propel demand.
The industry is expected to witness significant growth over the forecast period owing to the fluctuating petrochemical prices and intensified environmental concerns. Wood processing and plastic manufacturers are expected to shift towards wood plastic composite manufacturing owing to similar manufacturing technology, as well lower production cost. Furthermore, plastic manufacturers are expected to shift more rapidly owing to technical know-how.
Another promising growth area expected to propel demand in the future is that of the manufacture of musical instruments, including flutes, clarinets, and guitars. Also, the increasing application scope of wood plastic composites for manufacturing various consumer goods such as toys, pencils, cups, lipsticks and high-class packaging is expected to have a positive impact on the industry growth. However, the moisture sorption properties associated with wood, which can promote the growth of fungi and molds and decreases the lifespan of the final product, might be an impediment to market growth.
German wood plastic composite market revenue, by application, 2013 – 2024 (USD Million)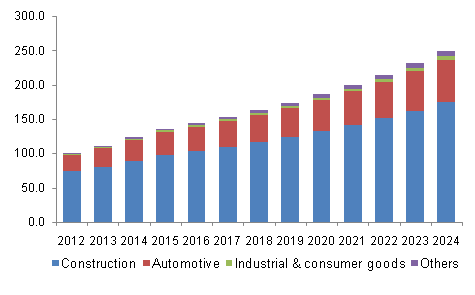 Product Insights
The market is segmented by product type into polyethylene, polypropylene, polyvinylchloride and others. Polyethylene based wood plastic composite are expected to dominate the market followed by polyvinylchloride. Superior stability and structure offered by the polyethylene are expected to boost demand for these products in high performance operations such as construction and packaging. The Netherlands-based IKEA manufactures wood plastic composite based chairs. Polypropylene and sawmill dust is used as a raw material for manufacturing these composites.
Application Insights
The market is segmented by application as building and construction, automotive components, industrial and consumer goods and others. The building and construction segment accounted for the majority of the market share. This can be attributed to increased infrastructural development activities, especially in the developing countries and growing demand for aesthetically appealing flooring and furniture solutions across the world.
Superior properties exhibited by the product, including high durability, superior performance, and low maintenance cost as compared to glass fibre, have resulted in increasing use of such composites in applications including garden furniture, benches, docks, sheet pilings, doors and sidings.
Decking applications dominate the global wood plastic market, accounting for over 80% of the total wood plastic demand in building and construction application. The automotive segment is expected to witness significant growth, owing to the rising demand for biobased products for manufacturing car interior parts such as seat cushions, cabin linings and backrests.
Regional Insights
German demand for wood plastic composites demand in automotive industry was valued at over USD 30 million in 2015. Rapid growth of the automotive sector in the region, coupled with the presence of key automotive companies, such as BMW, Audi, Opel, Daimler AG and Volkswagen, is expected to boost demand for Wood Plastic Composite market over the projected period.
The Asia Pacific is expected to witness significant growth in the product industry owing to the rapid development of construction and automotive industry. Increasing disposable income, coupled with changing consumer lifestyle in the emerging economies ,including Japan, India, Indonesia, and Thailand, is expected to boost demand for premium cars in the region, which in turn is likely to have a positive impact on the wood plastic components market growth over the projected period. Furthermore, the growing electronics and consumer goods manufacturing sector in China, coupled with the rising application scope of biobased products in these industries is likely to propel demand for wood plastic based composites.
Competitive Insights
The industry has numerous players and is dominated by North American companies in terms of production. The industry players are focusing on R&D in order to improve the product performance and increase durability. The key players in the market include Beologic N.V., Certainteed, Fiberon, LLC, Fkur Kunststoff GmbH, Guangzhou Kindwood Co. Ltd., JELU-WERK J. Ehrler GmbH & Co. KG, Josef Ehrler GmbH & Co. Kg, Polymera, Inc., Polyplank AB, Renolit, Tamko Building Products, Inc., Timbertech and Trex Company, Inc.
In August 2015, Russia-based GS Group started a wood plastic production plant with an annual capacity of over 2,100 tons. The company manufactures granulated wood plastic composites and finished products using injection and extrusion technologies. The plant was established to reduce the product imports in Russia which accounted over 40% of the total demand.
Source
Grand View Research, press release, 2016-05-18.
Supplier
Audi AG
Beologic
BMW Deutschland
CertainTeed
Daimler AG
Fiberon LLC
FKuR Kunststoff GmbH
Grand View Research
Guangzhou Kindwood Co. Ltd.
JELU
Opel
Polymera
Polyplank AB (SE)
RENOLIT SE
TAMKO Building Products, Inc.
TimberTech
Trex Company, Inc.
Volkswagen AG

Share