A collaborative agreement for biofuels research was signed by the US Department of Agriculture and China's Ministry of Science and Technology during the International Conference on Sorghum in Houston this week (19th August).
"We have an existing cooperation between the USDA and the Chinese Ministry for Science and Technology," said Eileen Herrera, acting deputy director for the Office of International Research Programs at USDA's Agriculture Research Service. "We cooperate on several initiatives. Signing this protocol represents formal cooperation in the area of biofuels research."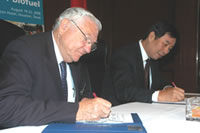 The Agreement was signed by Dr. Gale Buchanan, U.S. Department of Agriculture undersecretary for research, education and economics and Dr. Liu Yanhua, vice minister, ministry of science and technology, Peoples' Republic of China. It establishes the intent to "cooperate in establishing processes and infrastructure for conversion of sweet sorghum and other feedstocks to ethanol." It also encourages collaboration among scientists worldwide to contribute to alternative energy research through the development of alternative feedstocks.
"Today's signing establishes a virtual joint center for a series of projects that are very specific to the two centers," said Michael Abbey, international affairs specialist and Asia program coordinator for USDA-Agriculture Research Service. "We also intend to include universities and business in both China and the United States. We can now focus on specific areas of cooperation."
Source
Biofuel Review, 2008-08-21.
Supplier
Ministry of Science and Technology of the People's Republic of China
US Department of Agriculture (USDA)

Share