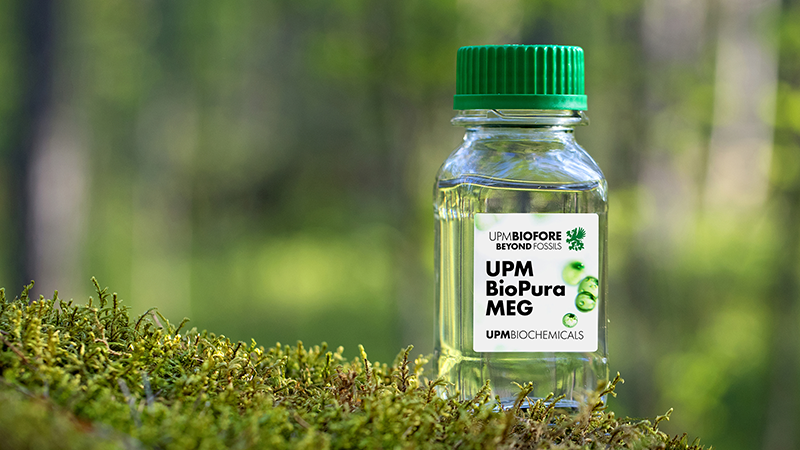 Dongsung Chemical, headquartered in South Korea and UPM Biochemicals, headquartered in Germany have agreed to form a strategic partnership to develop renewable products using bio-based raw materials, initially for footwear materials. Dongsung Chemical has signed a Letter of Intent for this strategic partnership to develop a renewable polyurethane product based on UPM Biochemicals' biobased mono-ethylene glycols (MEG), UPM BioPura™.
UPM is investing 750 million Euros to build the world's first industry scale biorefinery at Leuna in Saxony-Anhalt, Germany, to convert sustainably sourced, certified woody biomass into next generation biochemicals. The facility aims to produce 220,000 tonnes annually in total. Bio-MEG is one of the outputs. UPM targets the start-up for end 2023.
Through this partnership, the two companies will actively cooperate in the development of eco-friendly products using Bio-MEG, targeting the Asian market and its vast textile and footwear industries. Dongsung Chemical plans to diversify its portfolio by advancing eco-friendly product lines, integrating UPM's Bio-MEG into its production. Aim is to apply it first to footwear materials and then expanding the field of application to automotive interior materials and adhesives.
UPM's Bio-MEG is produced from sustainably sourced, certified hardwood obtained from forests in the regions around Leuna in Germany. The biomass does not compete with food resources and has a carbon reduction effect of min. 70% compared to fossil fuel-based MEG. UPM is actively working on further optimizing processes to enable carbon neutrality or even negativity of the product.
ManWoo Lee, CEO of Dongsung Chemical said, "Through the partnership with UPM, we are able to access a stable supply of innovative, next generation bio-materials and apply them to our major products. As Dongsung Chemical is focusing on carbon reduction projects according to its ESG management stance, we will continue cooperating with UPM to increase the proportion of bio-materials."

Michael Duetsch, Vice President Biochemicals Operations said: "We are delighted to partner with Dongsung Chemical as it pursues its strategy to replace petrochemical-based raw materials with bio-based raw materials and reduce the carbon footprint of its products. UPM is building a world beyond fossils, and we will work with our partners at Dongsung to deliver outstanding solutions for their customers, who are also eager to reduce their carbon footprint."
Dongsung Chemical continues to develop eco-friendly products and technologies with the goal of reducing carbon emissions by 10% by 2030. In June, it launched a biodegradable packaging material brand 'ECOVIVA®' and is planning to build pilot facilities for the development of various biodegradable products such as biodegradable functional films, adhesives, and foams.

About UPM Biochemicals
UPM Biochemicals offers innovative, sustainable and competitive wood-based biochemicals for replacing fossil-based raw materials and improving the environmental performance in various applications. End-use segments for renewable glycols include textiles, PET bottles, packaging, coolants, composites, pharmaceuticals, cosmetics and detergents. Lignin-based Renewable Functional Fillers (RFF) offer a sustainable alternative to carbon black and precipitated silica in a broad range of rubber and plastic applications. UPM is building an industrial scale biorefinery in Leuna, Germany to convert solid wood into next generation biochemicals.
About UPM
We deliver renewable and responsible solutions and innovate for a future beyond fossils across six business areas: UPM Fibres, UPM Energy, UPM Raflatac, UPM Specialty Papers, UPM Communication Papers and UPM Plywood. As the industry leader in responsibility, we are committed to the UN Business Ambition for 1.5°C and the science-based targets to mitigate climate change. We employ 17,000 people worldwide and our annual sales are approximately EUR 9,8 billion. Our shares are listed on Nasdaq Helsinki Ltd. UPM Biofore – Beyond fossils.
About Dongsung Chemical
Dongsung Chemical makes materials necessary for our daily life with chemistry technology. As a business holding company, we diversify our portfolios and achieve affiliates' continuous growth. Our Products apply in various industries; footwear, automotive, packaging, household, building construction, energy, healthcare, and biocosmetics. We focus on developing eco-friendly, high-performance materials to secure competitiveness in domestic and global markets. We employ 1,800 people and have an annual turnover of 750 million EUR based on K-IFRS consolidated statement of financial position. Our shares are listed on KOSPI.
Source
UPM, press release, 2022-08-18.
Supplier
Dongsung Chemical
UPM Biochemicals
UPM Corporation

Share
Renewable Carbon News – Daily Newsletter
Subscribe to our daily email newsletter – the world's leading newsletter on renewable materials and chemicals