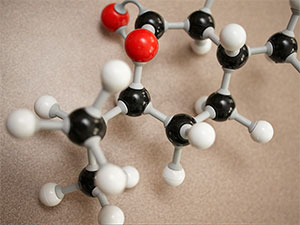 MINNEAPOLIS / ST. PAUL (08/01/2014) —The University of Minnesota's Center for Sustainable Polymers announced today that it has been awarded a $20 million grant over five years from the National Science Foundation (NSF) focused on discoveries of the next generation of bio-based plastics. The Center for Sustainable Polymers will be one of only eight NSF Centers for Chemical Innovation in the entire nation.
The Phase II Center for Chemical Innovation program represents one of the most significant investments by the NSF's Division of Chemistry. The Center for Sustainable Polymers draws together top researchers from the University of Minnesota, Cornell University, and the University of California, Berkeley, along with more than 30 companies from across the nation.
"There are bio-based plastics that are already in the market, but our goal is to make them lower cost and higher performance to compete with plastics developed from non-renewable sources," said Marc Hillmyer, the director of the Center for Sustainable Polymers and chemistry professor in the University of Minnesota's College of Science and Engineering. "Our research will accelerate these discoveries and, with help from industry partners, we expect to realize translation of our work to products in the market."
Tackling a challenging goal
The Center for Sustainable Polymers is taking a comprehensive approach to tackle this challenging goal. Abundant and sustainable plant-derived biomass will be converted into plastics by combining new methods in synthetic green chemistry with innovative processing techniques leading to materials for many different products used in everything from food and beverage packaging to health care. These new plastics will be non-toxic in use, bio-degradable, recycled or incinerated by environmentally sound methods, and attractive to consumers from both a cost and performance standpoint.
Some of these discoveries are becoming a reality. Researchers at the University of Minnesota recently combined expertise in biosynthesis, chemical engineering, metabolic pathway engineering, materials science, and polymer chemistry to build biobased block copolymers, an emerging class of high-performance materials, from purely sugar-derived building blocks. This patented technology is being marketed to industries that can translate this discovery into innovative products.
"The Center for Sustainable Polymers will play a key role in establishing the basic knowledge needed to reduce the nation's reliance on finite feedstocks by developing environmentally friendly, cost-effective plastics from natural, sustainable and renewable materials," said Tanja Pietrass, acting Division Director of the NSF Division of Chemistry. "This work will contribute to the growing U.S. bio-based polymer market, projected to value $7 billion by 2018."
Expanding education and outreach
While the majority of the grant will be used for research, funding will also enhance and expand innovative education and outreach programs. More than three dozen graduate students and post-doctoral researchers will be involved in all aspects of the center's research, education and outreach activities. In addition, senior investigators also will have the opportunity to mentor undergraduate students in their labs in a 10-week summer research program.
The Center for Sustainable Polymers is a major supporter of the university's Energy and U program, which brings more than 10,000 elementary-aged students to the University of Minnesota campus every year to teach them about energy. The center will also partner with Twin Cities Public Television's SciGirls and 4-H in Minnesota, New York and California to develop physical science curriculum for youth in kindergarten through 8th grade.
Industry support
Since its beginning, Center for Sustainable Polymers researchers have built important partnerships with industry. To date, 32 companies have pledged their support, and the Center will continue to build its base of industrial partners.
"Some of the very best science is done when researchers with diverse backgrounds and perspectives work together to tackle the most challenging problems, " said University of Minnesota Department of Chemistry Chair William Tolman. "With the granting of Phase II support by the NSF and the strong partnerships among faculty and students in the Departments of Chemistry and Chemical Engineering and Materials Science at the UMN, our collaborators at UC Berkeley and Cornell, and the large group of industrial affiliates, the CSP is extraordinarily well-positioned to make innovative discoveries at the forefront of chemistry."
About the Center for Sustainable Polymers
The Center for Sustainable Polymers was launched in May 2009 as a research center within the University of Minnesota's College of Science and Engineering. The center secured seed funding provided by the University's Initiative for Renewable Energy and the Environment (IREE) large grant, which was then part of the University's Institute on the Environment. In 2011, the center was awarded a Phase I NSF Center for Chemical Innovation, totaling $1.5 million over three years.
To read more about this new grant, visit http://z.umn.edu/csp20milliongrant.
Source
University of Minnesota, press release, 2014-08-01.
Supplier
Cornell University (USA)
National Science Foundation (USA)
University of California, Berkeley
University of Minnesota

Share