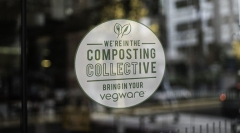 Last December, compostable catering disposables manufacturer and BBIA member Vegware launched the Composting Collective, its bring-back scheme to capture used takeaway Vegware for composting. The Composting Collective is a network of local cafes which accept Vegware packaging for composting.
Takeaway is an integral part of consumers' lifestyles, yet on-the-go recycling is known to be challenging. However, more and more Vegware clients are composting disposables. The new Composting Collective allows consumers to return their takeaway packaging to any bring-back bin for composting, even if it was bought elsewhere. Members showcase their participation with window stickers and in-café posters. The scheme also aims to encourage people to visit independent cafés over high-street chains.
Vegware also runs a Close the Loop trade collections service that it launched in Scotland in 2017. Under this scheme, used compostable Vegware disposables are collected from food businesses, cafés, offices, schools and universities for industrial composting to be turned into compost for use in UK fields. The company has now announced plans to extend its composting collection service to Bristol, allowing the city's food businesses to 'close the loop'. Gloucestershire and Worcestershire are set to follow.
The University of the West of England (UWE) has already signed up to Bristol's Close the Loop, in response to concerns from their 33,000 student and staff body. Now, used Vegware from the main student restaurant at UWE's Frenchay campus is turned into compost for Gloucestershire farmers. UWE's Sustainable Projects Officer Eddy Piper says: "We are pleased to have found a way to reduce the impact of our single-use packaging."
The Bio-based and Biodegradable Industries Association (BBIA), of which Vegware is an active member, represents companies involved in the production of biodegradable polymers and finished products. Its members' activities span a wide range of sectors and applications.BBIA aims to develop the circular bioeconomy in the UK, promoting markets and production of bio-based and biodegradable chemicals, their transformation into consumer and other products and materials.
Source
Bioplastics MAGAZINE, 2019-01-24.
Supplier
Bio-based and Biodegradable Industries Association (BBIA)
University of the West of England
Vegware

Share