In comparison to wood, tree bark is a very versatile resource. It consists of several layers, each with their products. It contains anti-microbial and anti-oxidant compounds that could be used as preservatives. Prospective medicines and flavourings. Raw materials for adhesives, insulating materials and water purification. But only recently has industrial interest sparked in doing something useful with bark.
Medicines from tree bark
The increasing interest is motivated by the aim to use forest biomass more efficiently. 'The European Union wants to promote the cascading use of wood,' says Pekka Saranpää. 'By making use of bark, we can produce more consumer products from renewable raw materials. The tannin-polyphenols from conifer bark, for example, could replace the harmful phenolic compounds from fossil sources used in adhesives.' Saranpää is the principal scientist at Luke, Finland's Natural Resources Institute.
Tree bark has had many uses, traditionally. People of the Amazon basin used to prepare strips from tree bark and made baskets and containers from them. The use of poplar and willow bark for medical treatments dates back to the Sumerians and ancient Egyptians, and the development of the medicine aspirin developed from this. Quinine, the well-known antimalarial drug, was at first used in the form of the bark of cinchona trees. Modern research now looks for medical treatments on this basis. For instance, an extract of the Scotch pine may prove to treat high blood pressure, asthma and heart disease. Willow bark extract is reportedly being prescribed to treat lower back pain. The South African cape bush willow supplies treatments for lung and ovarian cancer.
New challenges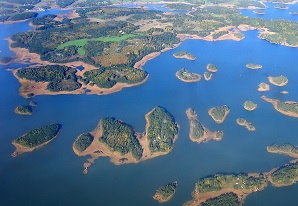 Tuula Jyske, senior scientist at Luke, studies how the useful compounds found in bark can be used by the food industry as additives and aromatics. Her team studies, for example, whether the tannins extracted from tree bark prevent the oxidization of fats in reindeer meat. This could be used to improve meat products preservation. 'We also tested whether the tannins might add some exotic flavour to the reindeer meat. Tannins are naturally found in wines for example, affecting their tastes too.' One of the opportunities researched is an ice-cream with a new 'forest flavour'. They also research the use of stilbenes, anti-oxidative compounds found in spruce bark. Particularly trees from Northern woods contain major concentrations of these substances.
According to Pekka Saranpää, extracts from wood and bark can replace almost any oil-based products. But the extraction of bark's various ingredients and their refinement pose a challenge. If these extractives are the desired end-products, wood should not be debarked and chipped beforehand. Instead, these processes should take place just before feedstock utilization. 'If bark is stored in piles, for instance, all stilbenes will disappear within four weeks,' says Hanna Brännström, senior scientist at Luke. Basically, fat-soluble compounds are preserved better than water-soluble ones. 'Raw materials are best stored frozen, or at least as cold as possible,' she says. And this adds new challenges to the material supply chain.
Softwood preservation
Of course, products from tree bark could make excellent wood preservatives. This is already their function in nature. These natural mechanisms protect the tree against pests, fungi and bacteria. Research into this area has been done by Luke and the universities of Oulu and Eastern Finland. The aim of this research is to develop effective products that are also as safe to use as untreated wood. Here too, tannins are the favourite substances, as they have been shown to retard the growth of bacteria and fungi. They are easy to extract in high volumes, just by hot water without any chemicals; and their raw material, softwood bark, is plentiful and cheap. But tannins have the same weakness as many other wood preservatives, says the Luke website: they do not stay in the wood long enough. The aim is to improve binding by fixing the tannins to the wood with nanocellulose. This can form durable bonds with the tree tissue and does not leach out easily. But then, the surface structure of nanocellulose needs to be modified in such a way that micro-organisms will not be able to degrade it. The results have been tested in Luke's experimental station in Punkaharju, equipped with an outdoor test field and heated boxes with soil for testing indoors. The station has a collection of some twenty commercial mould and decay fungal strains that are ready to try to penetrate into bio-preserved wood. The moisture conditions and temperature of the heated boxes can be adjusted to make them favourable for microorganisms. After a favourable test, outdoor tests follow. Results from them can be expected within 2-7 years. No doubt, we will witness new preservatives from Finnish companies coming to the market soon.
Author
Diederik van der Hoeven
Source
Supplier
European Union
Natural Resources Institute Finland

Share