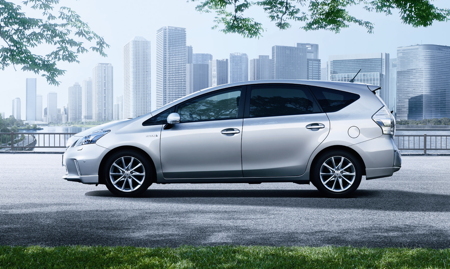 Toyota's new hybrid vehicle, "Prius α" (Prius alpha), features automotive interior parts made of DuPont™ Sorona® EP polymer, a high-performance, renewably sourced thermoplastic resin, contributing to the advanced interior design while also reducing the environmental footprint.
Toyota launched the "Prius α" in Japan in May 2011.
Developed in close collaboration with DuPont Kabushiki Kaisha, Toyota Motor Corporation, Kojima Press Industry Co., Ltd. and Howa Plastics Co., Ltd., the parts are used on the instrument-panel air-conditioning system outlet. Sorona® EP was selected for this precisely engineered, functional component for its heat resistance and durability required to control the intensity and direction of the air blowing out of the outlet.
DuPont™ Sorona® EP polymers contain between 20 percent and 37 percent renewably sourced material (by weight) derived from plant sugar. The new material exhibits performance and molding characteristics similar to petroleum-based, high-performance PBT (polybutylene terephthalate).
Sorona® EP thermoplastic polymer production reduces both carbon dioxide emissions and the use of petrochemicals used to produce the PBT that is typically used for conventional auto interior parts. Sorona® EP also offers lower warpage and improved surface appearance, compared to PBT, to help streamline the manufacturing process.
DuPont Automotive offers more than 100 materials and products for the global automotive industry. Through its global application development network, DuPont Automotive is committed to collaborating with customers throughout the value chain to develop new products, materials, components and systems that help reduce dependence on fossil fuels and protect people and the environment.
Toyota Adopts Renewably Sourced DuPont™ Sorona® EP Polymer For New Hybrid 'Prius α' Vehicle
(Photo: Toyota)

DuPont – one of the first companies to publicly establish environmental goals more than 20 years ago – has broadened its sustainability commitments beyond internal footprint reduction to include market-driven targets for both revenue and research and development investment. The goals are tied directly to business growth, specifically to the development of safer and environmentally improved new products for key global markets.
DuPont is a science-based products and services company. Founded in 1802, DuPont puts science to work by creating sustainable solutions essential to a better, safer, healthier life for people everywhere. Operating in more than 90 countries, DuPont offers a wide range of innovative products and services for markets including agriculture and food; building and construction; communications; and transportation.
The DuPont Oval Logo, DuPont™, The miracles of science™ and Sorona® are registered trademarks or trademarks of E.I. du Pont de Nemours and Company or its affiliates.
Contact:
Rémi Daneyrole
Tel.: +41 (0)22 717 54 19
Fax: +41 (0)22 580 22 45
E-Mail: Remi.daneyrole@dupont.com
Source
Innovationsreport, 2011-07-08.
Supplier
DuPont
DuPont Automotive
Kojima Press Industry Co., Ltd.
Toyota

Share