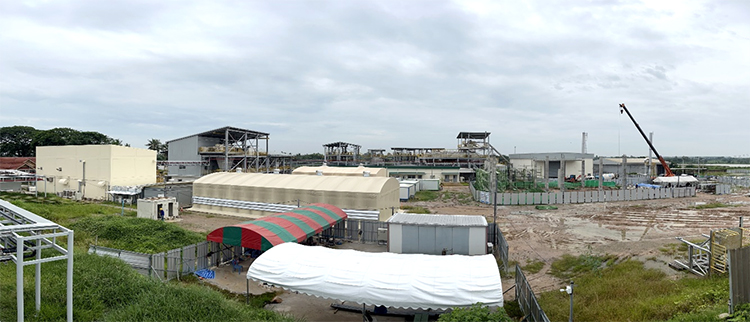 Toray Industries, Inc., announced today that it has invested a further ¥1.2 billion in Cellulosic Biomass Technology Co., Ltd., to lift its stake in that subsidiary from 67%, to 84.4%. Toray established that entity in Bangkok with Mitsui DM Sugar Co., Ltd., in January 2017 to demonstrate membrane-based saccharification process technologies. Toray looks to employ the additional capital to draw on cellulosic sugar production technology to swiftly commercialize key polymer materials derived from inedible biomass. The company will thereby avoid competition with the food chain and shrink its carbon footprint.
Toray looks for recycled resources to account for 20% of the raw materials in key polymer products by 2030. It is developing a range of technologies, including to recycle used plastic products, switch to biomass-derived materials, and tap carbon dioxide as a raw material.
To date, the company has created an energy-saving production technology that uses membrane separation technology to make cellulosic sugar derived from bagasse, an inedible biomass remaining after extracting juice from sugarcane. It has also innovated a technology to co-produce polyphenol, a high value-added product offering from bagasse.
Another application of the additional capital will be to augment an existing setup for manufacturing cellulosic sugar from bagasse with new facilities set up at Cellulosic Biomass Technology to produce such sugar from cassava pulp. This would boost the production capacity of this sugar to five metric tons daily. Toray will install boilers that can burn biomass fuels and increase wastewater treatment capacity to reduce utilities costs in making cellulosic sugar.
Toray has confirmed that the cellulosic sugar made using this technology can be used in microbial fermentation for manufacturing chemicals and is stable during storage and transportation. The Toray Group will use sugar that Cellulosic Biomass Technology produces from inedible raw materials for various chemical raw materials groupwide and for development of adipic acid in-house. For a fee, Cellulosic Biomass Technology will provide cellulosic sugar to chemical companies already making chemicals from the sugar from edible biomass and cultivate business partnerships with companies using biomass as a feedstock. CBT will additionally collaborate with domestic and overseas companies to develop the market for high-value-added polyphenols.
Toray seeks to commercially produce around 100,000 metric tons of cellulosic sugar annually by 2030. It aims to contribute to a circular economy by building a supply chain for polymer materials made from this sugar.

This cellulosic sugar technology is an outcome of support under a New Energy and Industrial Technology Development Organization International Demonstration Project during fiscal 2016 through and joint development with Mitsui DM Sugar. With that project completed, Cellulosic Biomass Technology bought the demonstration facilities and is pushing forward with commercialization efforts. 
About Cellulosic Biomass Technology Co., Ltd.
| | |
| --- | --- |
| 1. | Locations: Headquartered in Bangkok, Thailand, with plant in Udon Thani province |
| 2. | Date established: January 2017 |
| 3. | Capitalization: 600 million baht |
| 4. | Stakes (after capitalization increase): 506 million baht (for 84.4% stake)for Toray Group and 94 million baht (15.6%) for Mitsui DM Sugar |
| 5. | Businesses: Developing membrane-based saccharification process technologies and exploring commercial feasibility of related products |
| 6. | Daily production capacity (after capitalization increase): 3 metric tons of bagasse-derived cellulosic sugar and 5 metric tons of cassava-derived cellulosic sugar |

Source
Toray Industries, press release, 2023-08-22.
Supplier
Mitsui DM Sugar Co.
Toray Industries Inc.

Share
Renewable Carbon News – Daily Newsletter
Subscribe to our daily email newsletter – the world's leading newsletter on renewable materials and chemicals