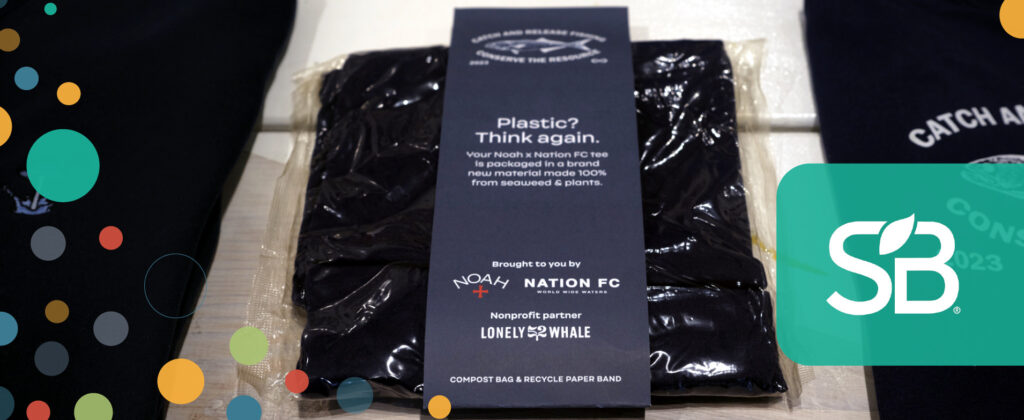 During her keynote at SB'23 San Diego, The Estée Lauder Companies (ELC) Chief Sustainability Officer Nancy Mahon announced the launch of the Tom Ford Plastic Innovation Accelerator.
The one-year program, powered by award-winning nonprofit Lonely Whale, aims to accelerate the scaling and market adoption of marine-degradable, seaweed-based alternatives to conventional, fossil-fuel-based plastic films developed by three materials startups — Sway, Zerocircle and Notpla — that won the Tom Ford Plastic Innovation Prize earlier this year. The Accelerator is sponsored by Tom Ford Beauty and its parent company, The Estée Lauder Companies; and supported by Phillip Sarofim's VC firm, Trousdale Ventures.
According to 2020 research by the Pew Charitable Trusts and SystemIQ, nearly half of all new plastic waste entering the ocean each year comes from one, ubiquitous source: petroleum-based thin-film plastic — which releases harmful carbon into the atmosphere and displaces wildlife and people from their homes. These flexible films are not readily degradable and difficult to recycle; and they can often end up in the ocean, where they can be ingested by sea life.
The Tom Ford Plastic Innovation Accelerator recognizes that in order to measurably displace traditional thin-film plastic from supply chains, winning innovations require access to multifaceted networks, leading insights and brand collaborators to deliver solutions to these issues at scale. The Accelerator will engage cross-industry expertise to facilitate monthly seminars and strategic communication workshops for the Prize-winning companies, equipping them with the support needed to advance their innovations in an effort to support the reduction of traditional and not readily degradable plastics.
A group of international brands in Lonely Whale's Early Adopter Coalition have committed to trialing the Prize-winning packaging solutions, including ELC — which has begun its internal trial to identify potential use cases across Tom Ford Beauty. As the convenor, Lonely Whale aims to bridge the gap between corporate interest in alternative materials and brands' ability to adopt them.
"Over the course of our sustainability journey at The Estée Lauder Companies, we've learned that strategic partnerships and collaborations are essential to helping us reach our goals," Mahon said in a statement. "We are honored to continue our partnership with Lonely Whale to help advance the integration of innovative, seaweed-based packaging materials across the fashion and beauty industries and beyond."
In 2020, Lonely Whale unveiled "Unwrap the Future" — a three phase, multi-year program to vet and scale viable, marine-safe solutions to traditional thin-film plastic. For phase one of the program, the Tom Ford Plastic Innovation Prize was created; in March 2023, Sway, Zerocircle and Notpla were awarded the $1.2 million Prize Purse — a combination cash prize and direct investment presented by Tom Ford Beauty, ELC and Trousdale Ventures.
The launch of the Accelerator marks phase two of "Unwrap the Future" and celebrates the continued commitment of the brand's investment in innovation to design and support a regenerative future.
"Unveiling the winners of the Tom Ford Plastic Innovation Prize was merely the first step. It's now essential to expedite capital access for these companies as they expand, replacing detrimental plastics with solutions rooted in nature," Sarofim said. "Innovation remains at the core of our investment ethos; and we're excited to witness the transformative impact these enterprises will usher in, paving the way for a more promising tomorrow by safeguarding the health of our planet."

"I am thoroughly inspired by the ingenuity, dedication and passion shown by the Prize winners and the ongoing investment in innovation from our partners at Tom Ford Beauty, The Estée Lauder Companies and Trousdale Ventures." said Lonely Whale co-founder Lucy Sumner. "Alongside the Early Adopter Coalition, recently joined by packaging systems leader Atlantic Packaging, these brands are actively demonstrating the type of radical collaboration needed to develop concrete and dynamic solutions that ensure the long-term health and prosperity of our ocean."
Brands interested in joining as members of the Early Adopter Coalition can reach out to hello@lonelywhale.org to learn more.
Source
Sustainable Brands, press release, 2023-10-23.
Supplier
Atlantic Packaging
Lonely Whale
Notpla
Sustainable Brands
Sway
SYSTEMIQ
The Estée Lauder Companies Inc.
Tom Ford
Trousdale Ventures
Zerocircle

Share
Renewable Carbon News – Daily Newsletter
Subscribe to our daily email newsletter – the world's leading newsletter on renewable materials and chemicals