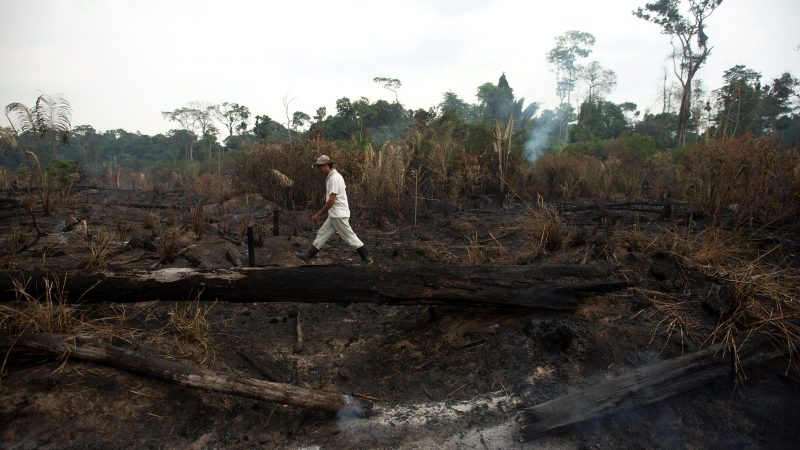 The world's largest forests, which include those in the Amazon, Equatorial and Siberian regions, have suffered from severe forest fires this summer. These forests play a key role in protecting the climate, as they are crucial for terrestrial carbon sequestration. EURACTIV's partner le Journal de l'environnement reports.
Often referred to as the planet's "green lung", the Amazon rainforest is a large carbon sink, as well as a hotspot of global biodiversity that is still mostly unknown.
However, for several weeks now, the world's largest forest, 63% of which is located in Brazil, has been affected by huge fires.
A president with little focus on forest protection
The situation is particularly worrying because of the remarkable indifference of Brazilian President Jair Bolsonaro. Bolsonaro immediately accused environmental NGOs of lighting the fuse – to better obtain funding, he believes.
For the latter, the responsibility lies with the agri-food and mining lobbies, which are eyeing Amazonian lands and resources. The support of lobbies was an essential element in Bolsonaro's election at the end of October 2018.
Under international pressure – the issue was put on the agenda of the G7 summit held from 24-26 August in Biarritz, France – Bolsonaro finally decided, on Friday 23 August, to send the army to fight the fires.
The episode turned into a diplomatic incident as France, as well as Ireland, threatened to oppose the draft free trade agreement between the EU and Mercosur (Argentina, Brazil, Uruguay, Paraguay).
Rising figures, but not exceptional
From January 1 to August 25, Brazil recorded 80,626 fires, a 78% increase over the same period last year.
However, this number is far below that of previous years. For example, during the 2002-2007 period (with a peak of 127,734 outbreaks of fire in 2005, from 1 January to 25 August) or in 2010 (121,578 outbreaks), according to data from Brazil's National Institute for Space Research (INPE).
For 2019, there were 42,061 fires in Brazil in August alone, mostly near roads. This figure is slightly below the average for August over the 1998-2019 period, which amounts to 46,660 fires.
In August 2007, Brazil even had 91,085 forest fires. However, alarming as it may be, the current situation is, unfortunately, nothing exceptional.
Moreover, the Brazilian Amazon rainforest is not the only one to experience an upsurge in fires compared to 2018. According to INPE, other South American countries experienced a significant increase.
The second Amazon country, Peru, which contains 10% of the surface area of the rainforest, has seen an increase of 105% compared to 2018, while Bolivia saw a 107% increase. Suriname and Guyana respectively saw a 121% and 146% increase.
Even French Guyana has experienced a 57% increase, from 7 to 11 outbreaks in the period from January 1 to August 25.
Africa and Siberia also affected
While eyes of the world are turned to the Amazon, satellite data from NASA on real-time fires suggest that the situation could be even worse in Africa.
This is particularly true for Angola, Zambia and the Democratic Republic of Congo, one of the countries most affected by deforestation. For these countries, this is, in fact, a consequence, frequent at this time of year, of slash-and-burn cultivation.
In July, Siberia was affected by major fires, with more than three million hectares of forest in flames. This exceptional situation, which also affected northern Canada, is linked to abnormally high summer temperatures, which rose above 30°C.
These are the consequences of an unusually hot July, the warmest month on Earth ever, according to the US Ocean and Atmospheric Administration (NOAA).
Author
Romain Loury
Source
Euractiv, press release, 2019-08-27.
Supplier
European Union
Government of Brazil - Página Inicial

Share