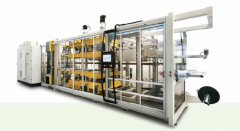 At NPE 2018, the triennial plastics mega-event held in Orlando, Florida, OMG SRL will be exhibiting its fully automatic servo driven thermoformer at the company's booth (South Hall, upper level #S34034).
The company, established in 1965 in Turin, Italy, is known for manufacturing thermoforming machines that are simple to operate, offer high-speed production capability, quick and easy tooling changes, and automated parts handling systems.
The energy-efficient electric OMG thermoformer produces finished parts with the help of precision rule-die trimming on a heavy-duty tonnage 4 post servo-driven trim press. Parts such as food trays, lids, containers, cups, and clamshells are loaded into an auto–stacking-counting station, an integral part of the OMG thermoforming system. Parts are then mechanically discharged onto a final packing station.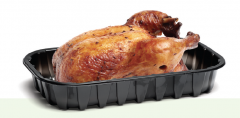 At the NPE, OMG will be thermoforming Advanced Extrusion's 100% crystallized compostable CPLA food trays during the opening hours of the show. The material – plant-based PLA resin – is able to withstand surface temperatures of up to 250°F and is microwave friendly. What's more, OMG will use the same CPLA tooling to thermoform AEI's CPET withstanding temperatures of minus 20°F up to 375°F intended for conventional ovens. Both materials incorporate a unique nucleating agent to promote accelerated crystallization during the thermoforming process.
AEI will be exhibiting at NPE2018 in Booth #S23014.
Source
Bioplastics MAGAZINE, 2018-04-05.
Supplier
Advanced Extrusion Inc.
OMG Thermoforming

Share