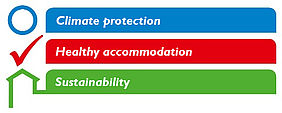 On 24/25 October 2019, the natureplus Criteria Commission, headed by DI Hildegund Figl (IBO Vienna), met in Frankfurt. On 24 October, an industry and association hearing was held on the draft of the new GL 5020 award guideline, in which 14 associations and manufacturers participated directly or by means of written comments.
Draft of the "GL 5020 Climate Compatibility and Energy Efficiency" presented
The GL 5020 Climate Compatibility and Energy Efficiency is a cross-sectional guideline that is intended to replace the previous guideline values for eco-indicators (cradle to gate) in all product guidelines. natureplus is pursuing three main objectives with this GL 5020:
1. to simplify communication by reducing the indicators for environmental impacts:
GWP (CO2 emissions) deals with climate protection and the footprint of production
PEE (Primary Energy Consumption) deals with energy efficiency in manufacturing
PERE (minimum share of renewable primary energy) relates to energy system transformation
2. better marketing and improved marketing opportunities for customers
Possibility for the customer to communicate the individual CO2 footprint
Limit values instead of guide values signal: "Finally someone is serious".
3. reduction of inspection effort and costs
Fewer indicators mean fewer calculations and therefore less effort by changing the calculation method from EN 15804 to ISO 14067.
Recognition of third party opinions (e.g. EPD) on disclosure of background data
Possibility to extend the intervals between tests if the measured values are far below the limit values.
By defining limit values, we underline the importance of the life cycle assessment for ecological product manufacturing and give our label new relevance. The limit values always apply to product groups (e.g. insulating materials made from renewable raw materials) and to a functional unit. Another advantage is that there are now precise rules on how to proceed if the limit values are exceeded. In addition, we have defined target values for the years 2030 and 2050 in GL 5020 in order to take account of the EU targets in climate and energy policy. These are targets for stricter limit values in the future. Manufacturers are expected to take medium to long-term measures to achieve these targets.
Lively discussion
The consultation brought about a lively discussion which, however, ultimately did not lead to any change in the draft guideline. The question was why the duration of use was not considered. This is very important when considering life cycle assessments at building level. At natureplus, "related" products are combined into product groups. Here the lifespans between the different products do not differ as much or are not supported by sufficient facts. The disposal phase is also not considered for the time being, as the scenarios and methods are not (yet) sufficiently consistent. Research results and further findings are still awaited.
Recognition of EPDs
For the first time, the GL 5020 draft allows the recognition of third-party life cycle assessments (e.g. EPDs). However, freely available industry EPDs are excluded due to their low data quality. In contrast to the EPD, natureplus is not a declaration, but a quality mark for specific building products, which is awarded on the basis of defined criteria which each awarded product must fulfil. Therefore, industry EPDs can only be recognised under the condition that the background data for the products to be certified are broken down in relation to natureplus.
An EPD is very labour-intensive, costly and difficult to afford for smaller companies. natureplus has therefore decided not to require EPDs as a prerequisite for natureplus certification. However, manufacturers who have already carried out a Life Cycle Inventory, Life Cycle Assessment or EPD will benefit from less effort in data collection. The examination will be considerably simplified by the examination of less stable indicators and also less time-consuming by the acceptance of already existing data.
Further procedure
The Criteria Commission (CC) now has the mandate to finalise the draft GL 5020 taking into account the suggestions made during the hearing and to ensure that all requirements can be verified. Initially, only limit and target value calculations for a few product groups were available for consultation. By the end of the year, the figures for all product groups already certified are to be worked out with the involvement of the manufacturers concerned. Only then will the new GL 5020 be published and become part of the tests by natureplus INSTITUTE SCE. A new design of the natureplus® label will be developed, allowing manufacturers to openly communicate their individual CO2 footprints. This procedure was welcomed by the natureplus Board at its meeting on 7 November.
New Award Guideline 0111
Also at the CC meeting in October, the new GL 0111 award guideline for blow-in insulation materials made of straw was adopted and subsequently approved by the Board. These products are characterised by a particularly favourable ecobalance and very low emissions. The new GL/RL 0111 is published on the homepage.
Source
natureplus, press release, 2019-11-18.
Supplier
natureplus e.V. Internationaler Verein für zukunftsfähiges Bauen und Wohnen
natureplus INSTITUTE SCE

Share