Arkema's newest high performance transparent polyamide, Rilsan® Clear G830: first bio based, fully transparent and high performance. Rilsan® Clear G830 is using 54% of biobased raw material thus contributing to reduce CO2 emissions. Naturally, Rilsan® Clear G830 offers the same key benefits such as freedom of design, comfort & durability as known from classical Rilsan® Clear G350. Rilsan® Clear G830, a solution to fit perfectly into eco-design concept.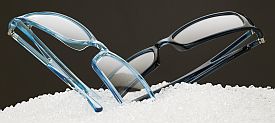 Rilsan Clear G830. © Arkema
Rilsan® Clear G830 is the latest innovation in bio based high performance Polyamides by Arkema. Rilsan® PA11, Pebax® Rnew and Platamid® Rnew have proven the ability of Arkema to propose innovative bio based solution for high demanding markets.
Source
Arkema, press release, 2008-11.-03.
Supplier
Share